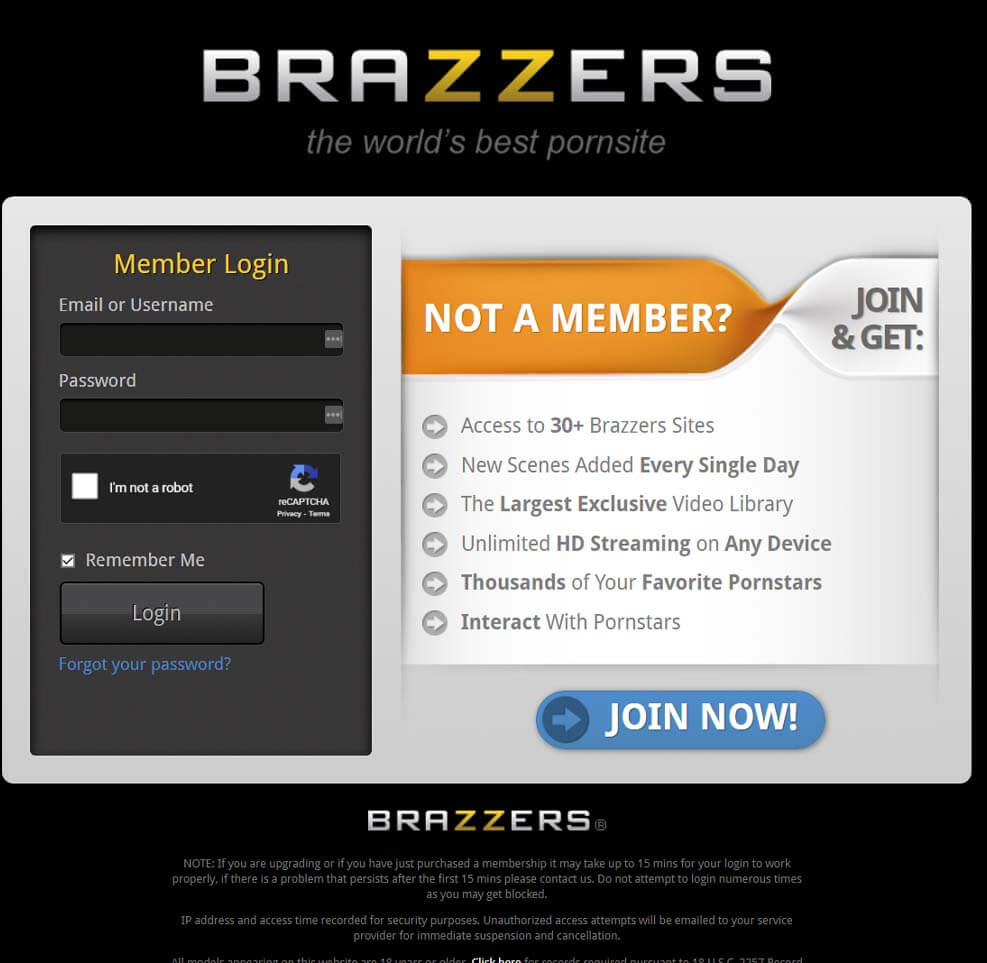 Brazzers Introduction
Brazzers, if by now this phrase does not mean anything to you then please simply leave this site and go back to the church in the woods. In all seriousness though, Brazzers is one of the top premium paid sites and is pretty much a mega porn mecca of the Internet.
About Brazzers
Just like pretty much every other major site that has established fanbase and content, it is owned by MindGeek, the masterminds behind Reality Kings, PornHub (get premium membership here), Tube8, RedTube, Twistys and many more. So they do know their shit and you can expect the same in terms of quality.
Brazzers Adult Content
As you might imagine, Brazzers membership includes a variety of different sites, including Milfs Like It Big, Big Wet Butts (and I cannot lie), Teens Like it Big, Day With a Pornstar and much more. The whole network includes over 30 different sites, so you can expect to find your ultimate go-to place.
What makes Brazzers different from your average porn site is the sheer amount of creativity that goes into their videos. I am sure that by now you have seen multiple pizza delivery or just ridiculous sci-fi, alien fucking stuff, and most of that is coming from the wicked minds of Brazzers directors. Don't get me wrong, it does include a boatload (over 8,000) scenes of your regular, good old fucking content that is also 100% exclusive to their site (so you won't find it on any other, mediocre networks), but sometimes it just pays dividends to look at a funny fucking video that starts with a music video of two whores singing I'm a Baby Girl. Seriously, it is a true adult entertainment and these guys know their business.
In addition to that, it does not fuck around with your membership and if you are paying, you get it all. That means there are no download limits for the content, so you can get it all, be it in galleries (zipped) or videos that are obviously of a Full HD resolution. However, it is not your average 1080p movie, the bitrate is much higher than most of the premium porn sites out there (not to mention mediocre ones). So when you see a crystal clear picture or a cut floating around the internet, check the bottom right corner as there is a high probability that the clip is form Brazzers.
However, the quality does not really matter if you don't have a good number of pornstars, right? Well, Brazzers have it all. Not only the exclusive actors but also a number of models is pretty impressive and will soon reach 2,000. And these are not your average, never seen before sluts, but well known and established, cock sucking whores that every single teenager is banging in their dreams.
Features and User Interface
When I was writing about reason to pay for porn at least once, Brazzers always came to my mind and this is all thanks to the great site navigation and a number of features that the site has. For example: not only can you filter the scene by a pornstar (obviously) but also go directly to a specific time frame and watch only the part that you like. So, if you are into anal or facials, all you can do is hit the anchor link and you begin watching it immediately. No more seeking around or whatever.
In addition to that, you are allowed to make requests and comment on pornstar profiles, so if you have seen a new porn actress that is really of your liking, there is a probability of seeing her again, assuming there is enough demand. It does feel like you have some sort of control over the content that you receive. Imagine watching Game of Thrones and having the ability to decide what is going to happen next. Not only that, but you can request pretty much anything, two specific actors and let's say deepthroating. It's like Christmas.
For better or worse, there is one issue that is not exclusive to Brazzers only: the web site has not been designed for such an incredible amount of adult content. For example, you can only open 3 pages at a time as pagination is not exactly their strongest point, and the advanced search is a must. Yes, most of the time (okay, for me it worked every single time), the categories and filters do their thing and I am able to find the exact content that I am looking for, still, it might be an issue for someone with a very specific need. The last negative I can think of, just like with most of the premium porn networks, is that due to the number of different sites they have, some are not updated that often. Yes, the most popular ones do but there are some who have been left behind, for better or worse.
Brazzers Statistics
Number of videos: 8,015
HD (720p) and Full HD (1080p): Yes
4K Content: Unknown
Streaming: Yes
Downloading: Yes
Average length: 30 minutes
Special Brazzers .com Offer
If you are looking to save on Brazzers then we got you covered. Thanks for your special deal, you will get up to 60% off your membership when going with the annual option. There are discounts for shorter plans to, but just like with everything in life, the longer the timeframe – the less you pay.
To redeem the offer, simply click here and let us know how you are enjoying Brazzers.
Brazzers
Pros
Content is uploaded daily, more times than not, twice per day
Great production values and quality adult entertainment
You can find pretty much every pornstar out there
High quality, Full HD content with a high bitrate
Higher resolution image sets than on other sites
High profile male and female pornstars
Big variety and funny scenes are a plus
No downloading limits
Cons
Pagination could be improved, can see only 3 pages at a time
Out of 30 sites, some niche ones are updated rarely
Trial option could give you more freedom