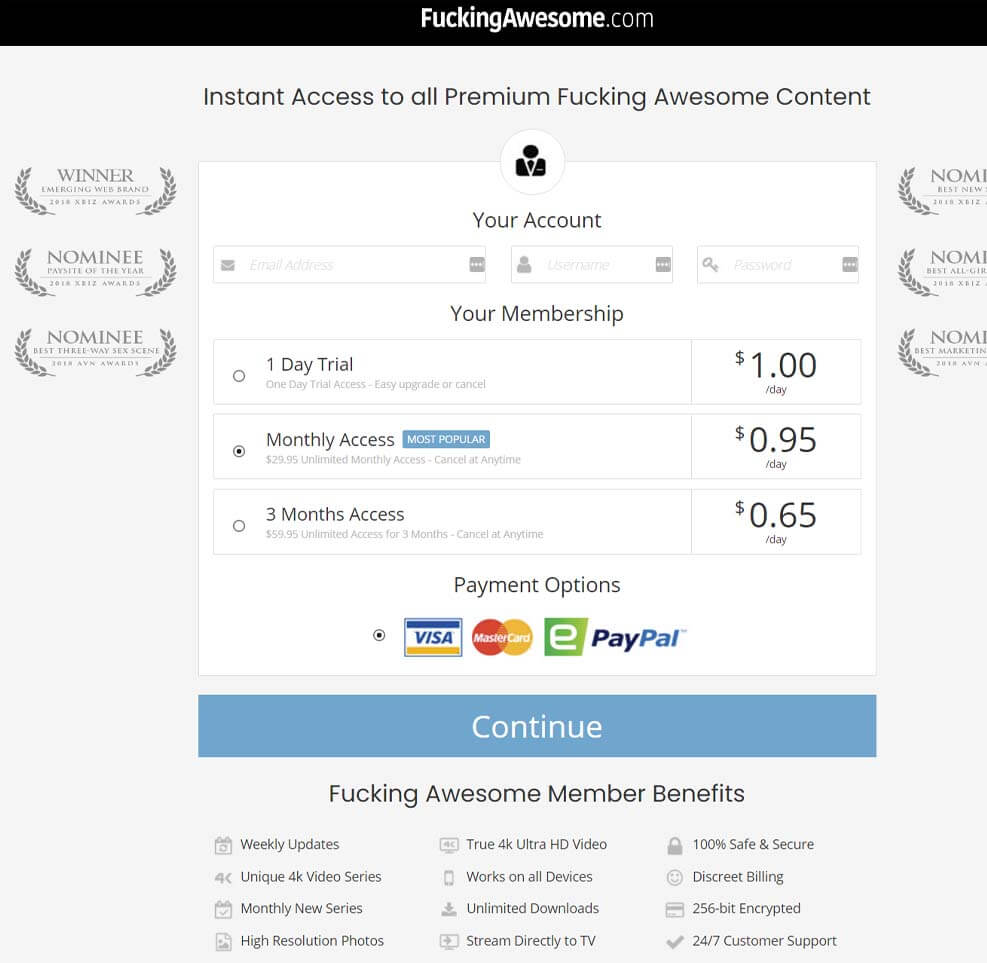 FuckingAwesome Introduction
FuckingAwesome is a site that has started as a free 4K porn source (during its beta phase) and as you might expect, grew quite a following. Since then, it has now grown into fully featured, Ultra HD porn site featuring dozens of videos with some of the well-known known pornstars and exclusive content.
About FuckingAwesome
Fucking Awesome might not be a brand that you have already heard but this is mostly due to the fact that they have launched just few years ago. The site used to be free for everyone when there were not too many 2160p scenes. Few months later, FuckingAwesome.com have started shooting exclusive 4K content and offered these to paid members while still offering one new video for free. Having grown into one of the best places for the exclusive 4k porn videos, it is now considered to be one of the best premium sites for the Ultra HD porn.
FuckingAwesome 4K Adult Content
With 4k porn being still as rare as the unicorn on the sunny day, I must applaud Fucking Awesome for offering some of their scenes for free during the initial launch stage. I mean, you could charge for the exclusivity and such high resolution pretty much instantly since there is not a lot of competition but the fact that they were just giving away everything for free to spread the awareness and popularity of 4k porn just shows that they are pretty interested and motivating to push the ultra hd porn into the mainstream. There weren't even any annoying ads or anything like that, it was a pure joy without any negatives.
Now, having grown the content to over 70 videos in 4K, the site changed their revenue model and became a premium 4k porn site, which is understandable and welcome as long as they have money to spend on new scenes. During our investigation, it looks like the site is maintained by some of the highest profile people in the industry with over 20 years of experience, so it is not some shit show site that will become obsolete soon. Quite the opposite.
The content variety is awesome as long as you are into white or whiteish chicks plus white dicks and considering demographics, meaning that the majority of paying people are white, that is a reasonable decision for a startup. The average video length is close to half hour, which is way above the industry average of 20 minutes. As far as fetishes and niches go, you can find pretty much everything there, from slow and seducing scenes to hardcore anal, POVs, good old slow fucking, lesbian action in 4k, squirting, young whores and milfs. A range is quite broad, and it appears that the producers know what they are doing.
The video quality is phenomenal and expected from the Ultra HD porn, there does not appear to be a lot of compression, which is welcome since you are paying for the best quality content and this is exactly what one must get. If you are into galleries, there is a same amount of them as videos, with the resolution of 2400px, which is above other 4K sites hosting pictures.
Another thing that I was pleasantly surprised about was the pornstars. Instead of picking just random young sluts who have no experience or image in the porn industry, Fucking Awesome went above and beyond, securing some of the well-known pornstars in the industry, including Megan Rain, Zoey Monroe, Ashely Adams, Audrey Royal, Christie Stevens, Darcie Dolce, Spencer Scott and much more.
All in all, the name Fucking Awesome does a great job at summing up their content, which is exactly that, fucking awesome.
Features and User Interface
Being a freshly launched site, you have a rather strong advantage, which is: no legacy code or old design elements that can get in your away, or sudden user interface changes (for the better) that for some reason still manage to anger the community, but I guess that can be said about most of the changes, just look at the Snapchat, Messenger or anything else.
Speaking of the user interface, it is business as usual and you can find there pretty much every other feature that other premium porn networks have. The index page lists all the videos that can be sorted by the most recent, most viewed or community favorites, with each displaying their own likes to dislike ratio and the number of views. Next are the tags that help you to find pretty much an niche or kink you are into, and if that does not help, there is always search, which does a rather good job at finding the specific things, it might not be advanced but with the amount of content, I have found no trouble finding the 4k videos that my dick was craving to see.
Pornstars index is the same story, which gives you their thumbnail, link to a profile with all their videos and galleries. Sorting is identical to that of scenes, which is great. Each video can be downloaded without any limits, including galleries or just streamed on site, with quality selection as expected.
One thing that I love about the site is their community and comments system, which just adds that extra cherry on top, and with the ever growing number of members, you can find some rather cool gems there that not only give you some useful info (like pornstars that look similar to the one in the scene) but also some laughs once in a while. As far as I am concerned, every porn site should have a comments system.
The only other negative minus advanced search is the minor one: a separation of previously free and premium members comments, which does not exist as of now.
Fucking Awesome Network Statistics
Number of videos: 60+
HD (720p) and Full HD (1080p): Yes
4K Content: Yes Planned
VR Content: No
Streaming: Yes
Downloading: Yes
Average length: 28 minutes
Special FuckingAwesome .com Offer
As the saying goes, you only live once so why not give this one a try, especially with the number of content and key pornstars that they have. However, we are not going to leave you simply empty handed. As a thank you, you can join through our special offer, which will give you instant access for as low as $1 or a membership worth $0.75 / day when going with the three-month access option.
Click here to redeem the offer.
FuckingAwesome
Pros
High quality content and production values
The video quality is simply phenomenal
Features high profile pornstars
One of the 4K porn pioneers
Easy to use user interface
No downloading limits
Community support
Constant updates
High variety
Cons
No broad descriptions for scenes
No advanced search