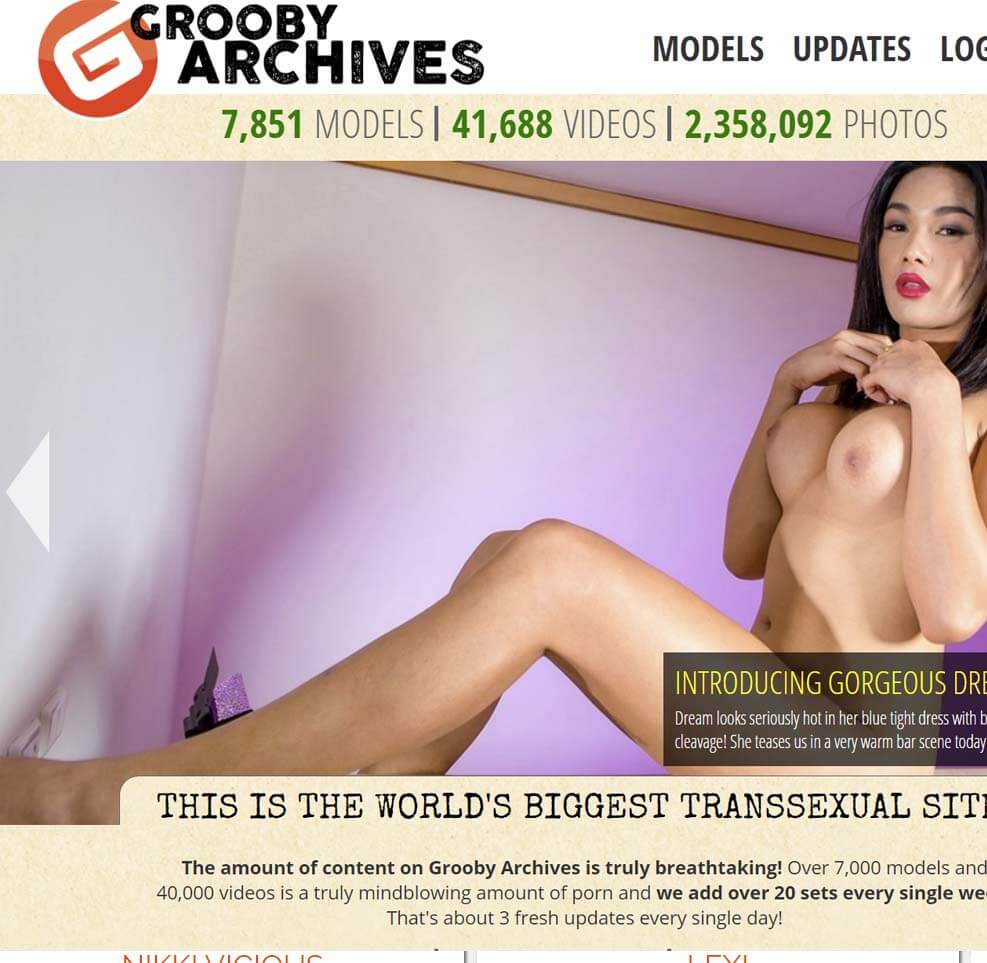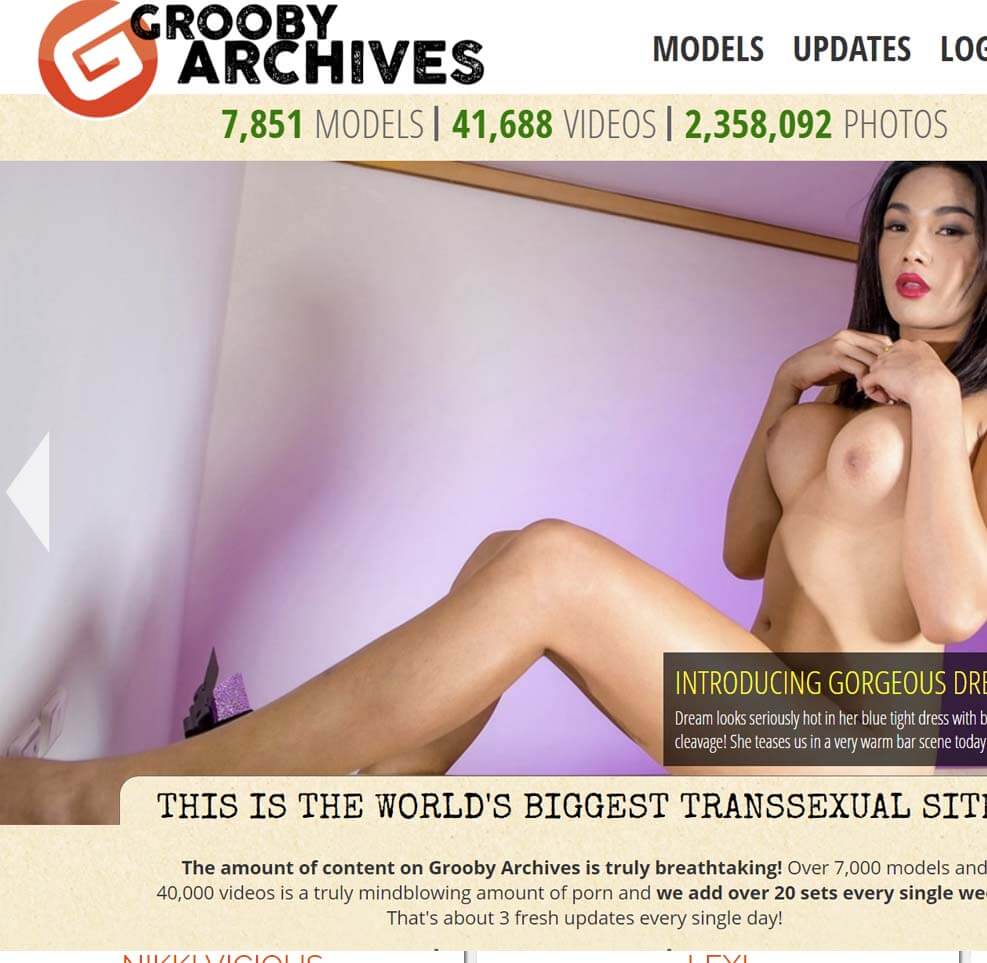 Grooby-Archives Introduction
Grooby Archives, a site that sounds like some sort of Gooby comics fan page (and if you have never heard about Gooby, stop reading and do a Google search first) is actually one of the biggest (they claim the biggest) ladyboy and Brazilian transsexual sites on the planet.
Yes, these are pretty bold claims. The only question remains: does it deliver? Let's find out.
About Grooby Archives
Founded in 2004, the Grooby Archives will soon celebrate 15 years in the shemale industry and with such experience, you know that they must be doing something right, or at least decent. It features porn ranging from Black tranny girls to world's hottest shemales doing softcore and hardcore porn.
Grooby-Archives Adult Content
Okay, despite reviewing dozens of tranny sites, this was the first time that I have heard about the Grooby Archives and to my surprise, they claimed to be the biggest shemale website in the world. This is something that you don't just throw away once in a while unless you can prove your claims.
I was happy to discover that Gooby Archives does indeed feature one of the more impressive tranny girl's collection, be it in videos or pictures. As of now, the site has almost 8,000 shemale videos and the similar number of galleries with the average of 100 pictures per set. Soon they will be reaching one million pictures total, which is likely one more reason for them to brag about how big the site is. Speaking of galleries, the pictures are unfortunately of the lower quality (1024×768), which by today's standard is not acceptable. TGirl Network for example offers videos twice as long and galleries with a resolution of 1536×1180. Now, personally, I am not into pictures anyway, so this is no big loss for me, but I just wanted to be straightforward with you and cover all the points.
Now, if you were to compare all of their network videos plus old sites that can still be accessed through Gooby Archives members area, the amount skyrockets to almost 50,000 galleries with 2 million photos, close to 40,000 videos and a staggering amount of shemale pornstars: 6,500. Now that's a lot of fucking videos. Best of all, the content goes from black tranny girls to Brazilian shemales, Ladyboy to Ladyboy (Asian) action. Basically, the only thing that is on a limited end is hardcore shemale porn. It is still there but personally, me being of fan of this specific niche only, I expected more. Don't get me wrong, there are plenty of videos to jerk off for months, idk, I must be spoiled.
The overall content comes from Shemale Yum, a site that is over 15 years old with most of the trannies covered, Black TGirls, a pretty self-explanatory one, with 12 years' worth of content, Ladyboy to Ladyboy that features nothing but beautiful Asian shemales, and lastly, Brazilian Transsexuals, which can only mean one thing: big tits and nice bodies.
Grooby Archives claims 24 updates per week, which is awesome. You can also download or stream any porn, and grab a version specifically made for your cell phone or tablet. Everyone is covered. Also, I have found that the majority of models are really good looking, which is a really nice bonus.
Features and User Interface
Having nailed in the category of shemale content, Grooby Archives lacks in the user interface area. While compared to other tranny sites it is average, if you were to visit Brazzers, Reality Kings or pretty much any other major porn network, it does get a little disappointing. Thankfully, all the features are still there, and you can do advanced search, which I would expect for a site that big. You can browse tranny pornstars by the category such as: new shemales, young shemales, best shemales and tranny teens, as well as access highest rated content, go to updates section or do what I prefer, which is browsing tranny pornstars.
Now, as far as missing features go, I would love to have a much better user navigation, updated web design that does not look like something from the 2000s and ability to filter porn without having to go to advanced search. When you visit pornstars section, there are 240+ pages of models but on that specific page it cannot be sorted by the most popular ones or anything like that. A real shame considering that there are a lot of beautiful ones out there.
So, I guess it is up to you, whether you prefer thousands of videos but old school user interface (or maybe that is their theme considering "archives" name?) or just want something that is simple to use and grab a new video or two a week. In that case, check our other tranny sites that we have reviewed. And in either case, thank you for reading. With the user interface updates, it could be the best thing since sliced bread on a tranny dick. Hopefully, the Grooby Archives admins, owners or managers read this review and adjust the site accordingly.
Grooby Archives Network Statistics
Number of videos: 8,000+
HD (720p) and Full HD (1080p): Yes and No
4K Content: Planned
VR Content: No
Streaming: Yes
Downloading: Yes
Average length: 10 minutes
Special Grooby-Archives .com Offer
Well, reading the whole review wasn't easy, was it? You probably wanted to either join before finding out whether its worth it or just finish the whole thing and then make a decision. It's like waiting in line for the ice cream. Anyway, I am not going to leave you empty handed, if you were to use our special offer, the membership savings are rather impressive.
Instead of paying $39.95 per month, it will be only $29.95 but if you were to go for a yearly plan, the price goes to as low as $16.66, which is crazy! Is this good enough?
Ready? Click here to redeem the offer.
Grooby-Archives
Pros
Offers a really huge variety of tranny porn
Thousands of ladyboy galleries in high res
The quality is on pair with other sites
A lot of weekly and daily updates
Advanced search is a nice touch
Covers many shemale niches
Cons
Could have more hardcore content
Average video length is 10 minutes
Slow downloading speeds
Web design needs update