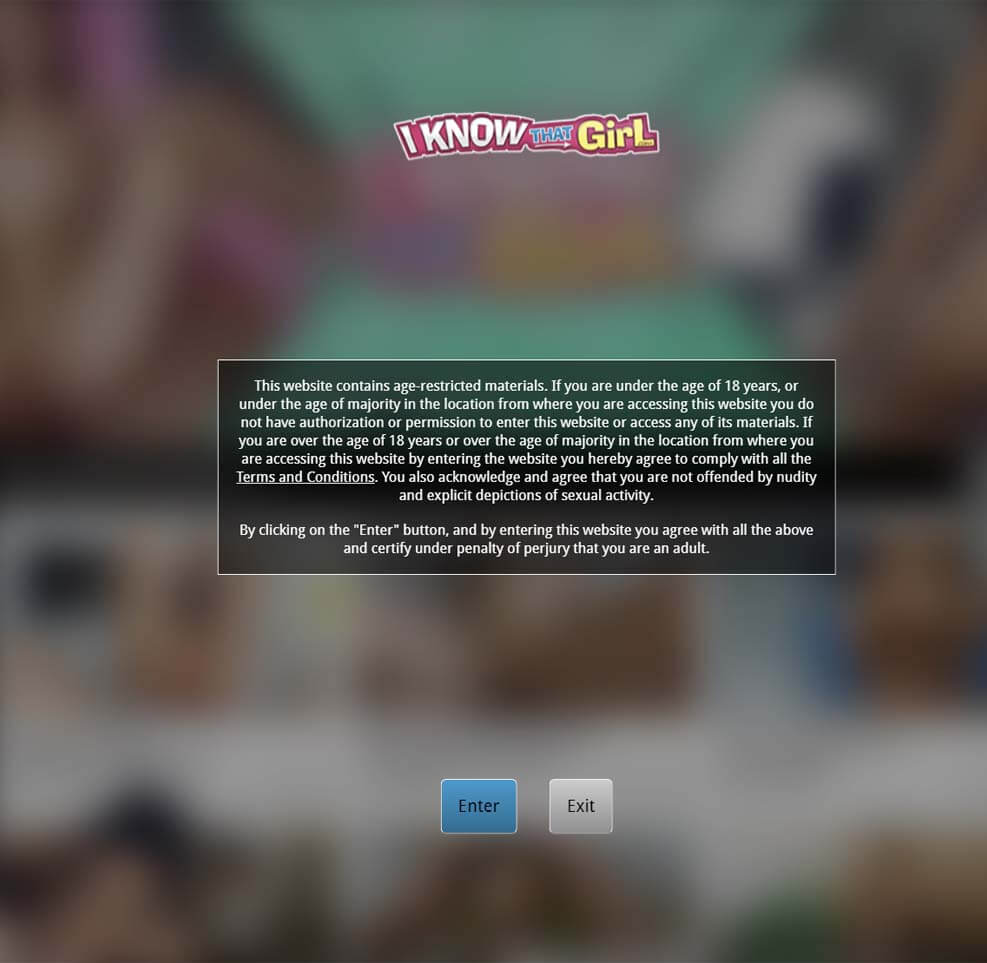 IKnowThatGirl Introduction
The site I Know That Girl is all about the variety and features multiple amateur performers of all ages and skin tones (mostly white though). It is a bonus site of the Mofos network that you also get the access to with the membership.
About IKnowThatGirl
With so much competition, I Know That Girl must be always paying their best cards as the site has been feeding people with porn for years. It is also one of the very few paid sites that offers true to life and 100% real amateur porn.
IKnowThatGirl Adult Content
I am a fan of amateur porn, and a recent convert too. Few years ago, my mind and credit card statements were filled with nothing but the top porn sites, watching and jerking off to the mainstream porn and famous pornstars. Then, I just got bored of all that and looked for alternatives. Thanks to a random occurrence, I have learned about the amateur porn and I would be lying if I told you that it hooked me up. Being online for so many years, a certain image of amateurs fucking has been planted into my mind. I have imagined awful cell phone recorded sessions of nothing but pixelated faces and bad cameras. This is what amateur porn used to look like in 2000s. As the technology evolved, so did the home-made porn production quality. We are nearing the second half of this year and the way amateurs are producing their videos now is just staggering. You got Full HD capable phones, iPads or cheap cameras that look crisp and clear. Others even do video stabilization, so while it can't match something like Brazzers or 4K porn sites exact, the gap is so small that the niche itself makes it a better choice than the mainstream adult movies. That is of course if you are into amateurs. For me, the transition happened right after this discovery, which challenged my beliefs and made me rethink the homemade porn scene.
So, what did I do? I have started searching for best amateur porn sites and I Know That Girl was my first site (seriously). Not expecting much, I have opened a random video and it was on. The innocence of homemade porn really made me horny and I just could not stop watching. You see everything there, from setting up the cameras to film themselves fucking to awkward introductions that these amateurs were never trained to act for. Most of the time scenes are filmed in the POV view, so if you are not happy with that, please take this into the consideration. I would say that around seventy to eighty percent of the time, a video has such angle. Girls look good and Mofos Network does a good job at accepting applications only from the above average whores. All of that would not matter if IKnowThatGirl did not have many videos, right? If you are a professional fapper and stroking your dick at least once per day, there are enough movies to last you well over a year. Considering all the updates and over 470 videos that have already been placed on the website, they should have 500 amateur porn videos in the next few months. This does not count other 11 bonus sites that you get the access to, which multiples that number eight and brings numbers closer to 3,500. I think that over the last half year or so, the quality got too good, and I prefer older, raw videos, with more awkwardness and less "trying to be like a pornstar" type of amateur girls.
Are there things that I don't like? Some user interface features are not exactly well throughout, but that is for the later discussions. The only annoying thing is their video protection thing. With trial or cheapest access, you won't be able to download videos to your PC. That costs like 10 USD extra. Not a major deal breaker, considering that they are just trying to protect the content, but also something they should consider changing. Other porn networks have no issues with unlimited downloads and they are not out of business.
Features and User Interface
Let's start with the positives. You got a nice user interface with all the basic features like search, sorting options and ability to discover amateur sluts with the help of categories or tags. Fairly average and not including any of these would be a suicide. What I do appreciate about any porn network is their dedication to community. IKG and Mofos allows you to leave comments under every video, which not only connect you to other members, but also allow you to voice the opinion and helps to discover more porn. You can also rate the scene, add to favorites, all that stuff.
Thumbnails offer great variety and don't just have all girls with the cocks inside them. You can also sort content by network or series, which is great for porn discovery and your wellbeing.
Basically, it is a nice and fully featured site, but let me tell you where it could do better. I struggle to understand how some of the most popular porn sites can't make even the basic navigation right. This is one of the sites where instead of allowing you to open 1 to 10 pages at once, only the first 4 are available (and the last). I am just baffled. This ruins the whole experience for me and other people that like to have multiple tabs open.
Update: it looks like they have fixed the pagination and it now works as expected. Well, that was quick.
IKnowThatGirl Network Statistics
Number of videos: 470+
HD (720p) and Full HD (1080p): Yes
4K Content: No
VR Content: No
Streaming: Yes
Downloading: Yes
Average length: 25 minutes
Special IKnowThatGirl .com Offer
I appreciate your time reading the whole review. After contacting IKG team and asking for some coupon codes or anything, they were kind enough to generate a special link for the RedBled members, which will cut your joining costs by half or even more if you go for the access longer than few days.
Click here to redeem this offer.
IKnowThatGirl
Pros
One of my favorite places for amateur porn
Nice amount of videos for the niche
These girls are real amateurs
Clean, high quality movies
Awesome if you like POV
11 bonus sites access
No ugly girls
Cons
Navigation features should be better
Asks to pay extra for downloads
Trial is very limited