We are bringing back the long-awaited series of pornstar interviews! This year will be even more epic as we have already secured a few (AAA caliber) questionnaires. Yes, even the "all-time greatest" that took some convincing. Not sure how or when these interviews will air since all we get are calls to change the dates, aka "let's move it by one month", but… I'm hopeful.
First, we have one of the most incredible pornstars from Vietnam, Cindy Starfall. I am grateful for the opportunity to interview her, and as you will soon learn, she is one hard-working individual.
So, let's begin!
P.S. If you ever wanted to ask questions on your own, leave a comment below. If these are relevant, I'll add them to our next interview.
Could you please introduce yourself?
I was born and raised in Vietnam. My family has businesses in Vietnam and was able to send me off to America to study. I came to America when I was 15 years old. After finishing my business degree, I had a corporate job, but I decided to be more adventurous and try something different. People describe me as sweet, bubbly, funny, hard worker, and badass at the same time. Off camera, I enjoy traveling, playing with my kitty, cooking, and trying new restaurants.
At what point in your life you've started thinking about adult business?
I wanted something different when I was bored with a regular routine job. I want to meet new people and travel to new places. Luckily on that same night, I was found by an executive, and he put me in Hustler magazine, then an agency found me. So in a way, porn found me, so it's meant to be like a happy ending story.
Do you think that Catholic school or strict parents had any influence over your decision?
Yes, it teaches me discipline, and with my strict upbringing, it teaches me that I can get to where I need to be through hard work. Some of today's generation believes in handouts, everything should be given to you, but I believe you have to work for it. I did not get to where I am by being lazy. The saying goes, "Entrepreneur work 80h a week to avoid working 40h, 9-5 for someone else" is true. I'm happier working for myself with longer hours than working for another company with no purpose.
Were you shy and nerdy as a kid or more of an ongoing type?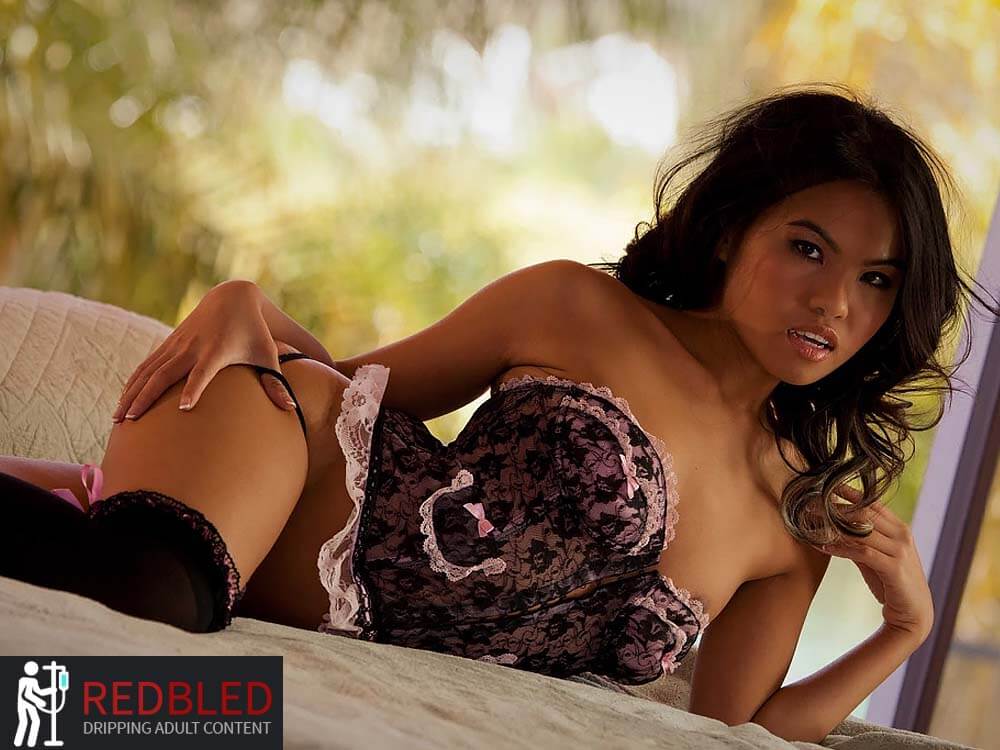 Yes, I was both shy and nerdy. I didn't have much confidence. All I do is a study in school. I'm the kind of girl you get homework answers from.
I was a teacher's pet in a way, but I was always so conscious about my accent.
Did you intentionally start as a glamor model with a goal set in mind, or did transition to porn happen naturally?
I was a webcam model at night while I still had my normal corporate job. Then when I was recruited, I decided to go into its full swing. I never thought I can make a career out of it. I wanted to pay off my student loan and within a year of saving up from adult $ I was able to be debt free, which can take people years after they graduate. However, I enjoy my job so that's why it has been the longest job I held.
When did you tell your parents and/or friends? Were they supportive?
I didn't tell my parents. They found out. Of course not, in Asian culture, they can't accept it but I'm also to the point in which I can't change people's opinion about me or my industry. I'll just be who I am. I don't drink much, I don't do drugs, so as long as I know I love my job and I save $ while doing it then I'm the only person I need to prove to.
Do you remember your first scene?
Yes, it was for Reality King's "Happy tug." I was nervous but excited at the same time. I was worried about my accent. I didn't know how a typical porn scene is like. But after the set, the director said I did amazing job and I felt very happy. Plus, I get to orgasm while working
What's your most memorable performance so far?
I love every scene from my award-winning showcase movie "Starfall". It was sexy, messy, and show how wild I can get.
Do you read comments about your work on PornHub or other sites?
No, I don't. I'm often so busy either on the plane to my next feature dancing gig or producing my own content. I just don't have time to read other comments of whether or not they think I'm sexy or not. I don't pay attention to internet trolls and you shouldn't either. Most girls pay too much attention to people's opinions when it serves them no purpose.
You are extremely popular on social sites and various porn sites. To whom did you attribute your success?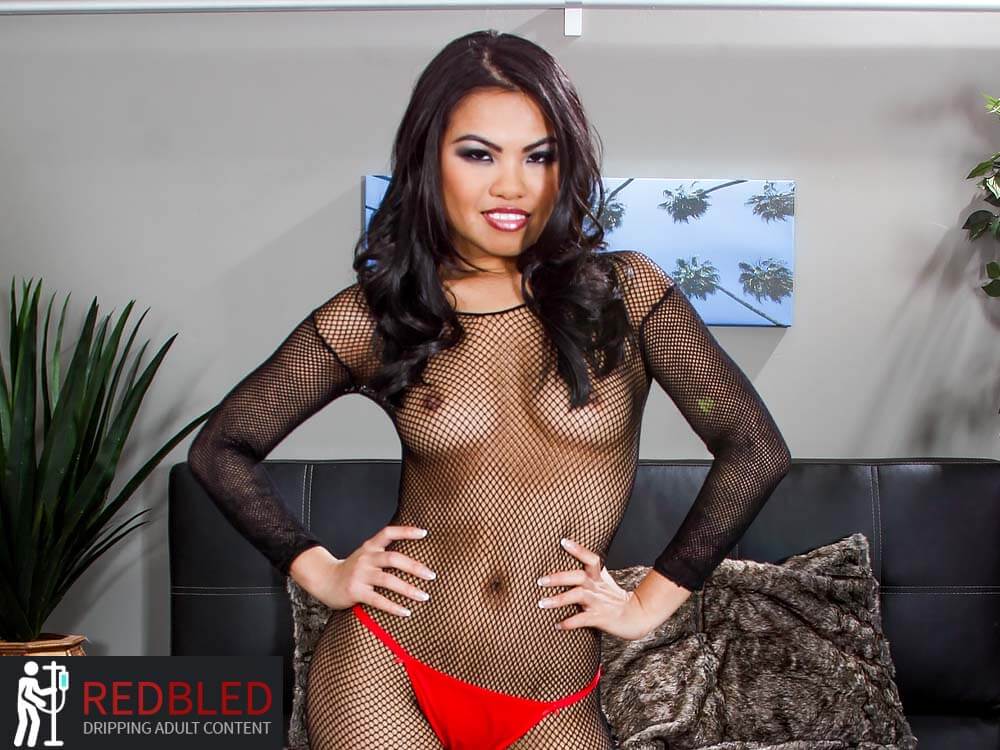 To my fans! I can't get to where I am without their consistent support, to the studios who give me an opportunity to get my names out there.
To the male talent who makes me look amazing on set. To my parent who gives me my look.
What's your view on free porn sites anyway? Do you think it hurts the overall adult business?
It's there to stay! You can't do anything about it. I'm just being realistic. I just hope that my real fans will continue to support me directly because without it, I can't produce more content for them. It does hurt the overall adult business because more people will get used to NOT paying for their porn. But the majority who want excellent quality content will still pay. I produce my own scenes on CindysFlix, and fans can support me directly.
Do you have any taboos in porn or scenes that would never do?
I don't do extreme BDSM just because my body bruises easily, and I don't consider being tied up while being fucked is pleasurable.
What's your worst porn experience so far?
When companies tell me to speak very little English. I already have an accent. I don't know how much thicker accent you need.
Let me be myself. Most fans don't like when I pretend to speak no English when they hear me speak English just fine in interviews.
What's your view on boob jobs and other surgical enhancements? Have you ever considered any?
When I first got into porn, they said I can't make it without boob job. I told them to fuck off because I am who I am. I don't want to look like other girls. I have my own market. So, no, I have not consider boob job or any surgical enhancements. I stay all natural six years ago into porn and I still will remain that way.
Why mess with perfection?
How can one have such a beautiful butt? Do you have a routine in the gym?
I do a lot of squats. I walk up a lot of stairs. It's all about working out. I don't care for the fake butt implant look. It LOOKS perfect, but it doesn't feel perfect. I prefer a natural butt and curvy girls.
How did porn affect your actual life? Is it now harder to develop meaningful relationships?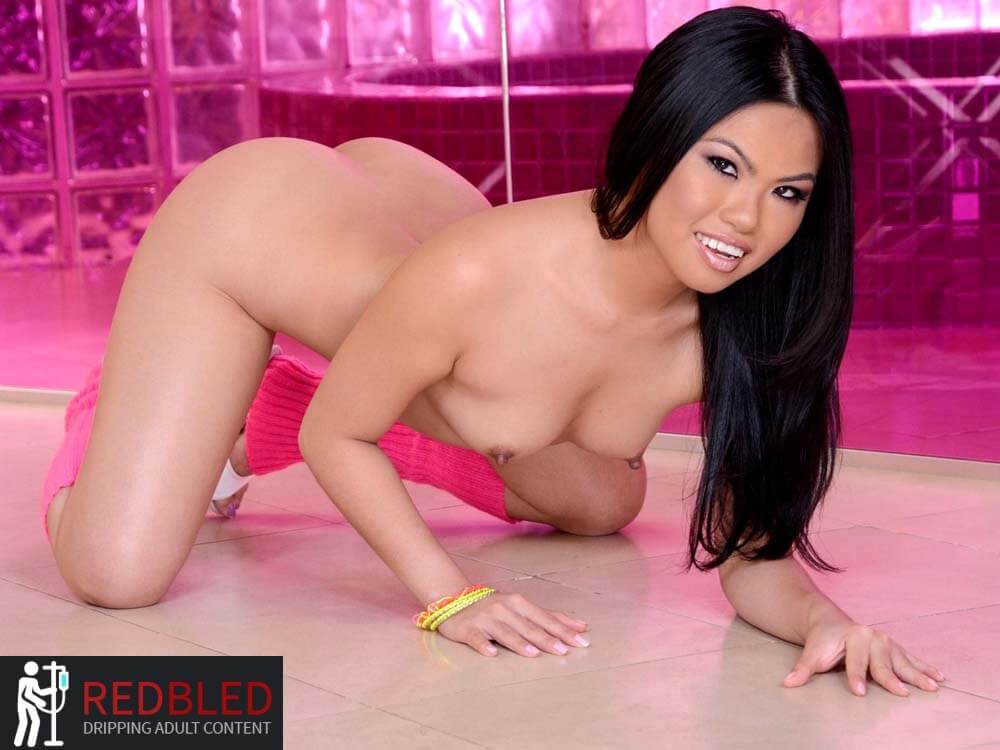 I have been so busy that I don't really pay attention to my personal life. I mean, when it comes to dating, it definitely is hard because I'm always out of town, so it takes a very understanding man to deal with my schedule. So I just want to focus on my career and future rather than my current relationship.
What's your daily routine like during work and free days?
My daily routine usually varies because not every day is the same for me. Usually, it includes waking up at 8 am for my morning Bootcamp. Then fulfill online orders from my official store. Edit videos for my movies on demand store. Update content on my social app. Then I take a break to do grocery shopping for dinner. Someday, I will take myself on a hike or travel to a new destination.
What are up to these days?
So busy. I'm booked all the way to December, touring globally and across America. You can meet me in person and get all of my tour dates under the "calendar" section on cindystarfall.net.
Where can people find you?
Twitter: @cindystarfall
Instagram: @cstarfall
YouTube: Cindystarfalll
Online store: www.cindystarfall.net
Join the VIP club: www.ClubStarfall.com
---
And that's it for now! Again, thanks to Tanya Tate and Cindy for allowing us to learn more about the adult industry and everything else.
I cannot help but be impressed with Cindy's attitude, realistic take on life, and large "girly balls." Not submitting to the pressure of a boob job, no butt implants, and strong discipline.
This was the best interview I have personally read. You get what you give.
2023 Update
Cindy Starfall grew a lot since our interview and not only has been featured on calendars, but there are molded pocket pussies that look "like the real thing". Her latest services include a 10-minute phone sex call for $200 (expensive), custom videos, sexting, and a private 10-minute Skype show for $300. Jeez, I wish I had looks and fanbase to pull numbers and earnings like that. But at least Cindy is active!