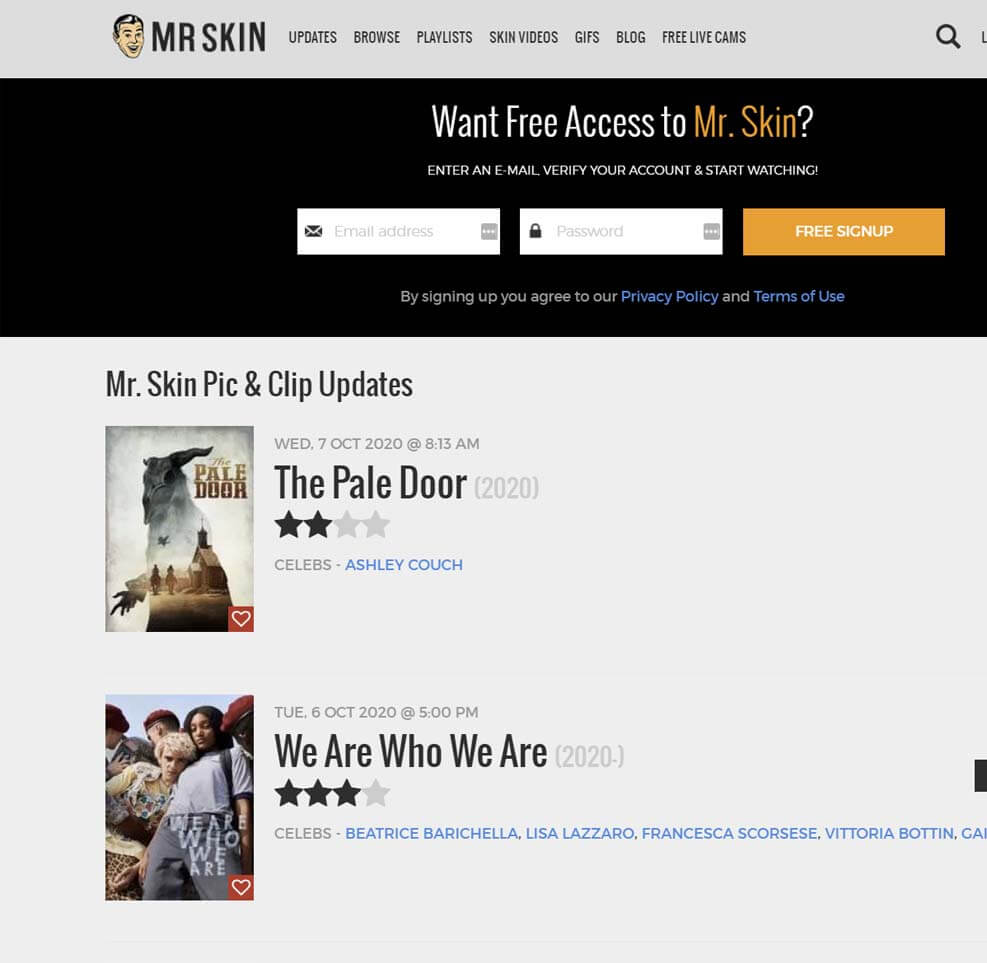 MrSkin Introduction
Mr. Skin is a web site that focuses on nothing but the celebrity porn and various nudity scenes from TV and movies. It is also one of the largest sites dedicated to such niche in the industry and features hundreds of thousands of celeb nude videos.
About Mr. Skin
Mr. Skin was created back in 1999 and has been experiencing a major and steady growth ever since. They do have quite a history considering the site's age. The web site's slogan is "fast forwarding to the good parts", which makes sense as what you will find inside are the thousands and thousands of videos as well as clips of various famous people, exposing their nude bodies in a form of TV show or movie.
MrSkin Adult Content
Having side that old certainly gives you a lot of benefits and celeb content is one of them. Speaking of Mr. Skin, I was aware of them for a long time but never visited the site, the brand got ingrained into my mind through some sort of magic and has never left me ever since. Well, after spending days looking at the best celebrity porn web sites, sooner than latter I came across Mr. Skin and this is where the things clicked. It was like discovering an ancient toy of your family that you forgot about long time ago.
Now, speaking about the celebrity content, the site is absolutely ridiculous, like one of these "too good to be true" kind of ridiculous. Believe it or not but they have over 250,000 celebrity nudity video caps and over 70,000 clips from 20,000 actresses. That is as impressive as a collection can get, especially when you are covering nothing but celebrity porn and nudity. Basically, the way content collection works is this: they don't go and look for leaked sex tapes or any of that shit, instead, you get a massive compilation of scenes from PG and R rated movies that everyone must see.
The best part is that you can get to see some really good things out there, like Scarlet Johansson's ass, Amber Heard, any celebrity you can think of is likely there. Now, since these are not some sixty-minute porn scenes, the average video length is around the minute, but with site featuring so much scenes, you quickly forget about "the issue" and just learn to enjoy one video after another. Think of it like throwing bowling balls, you just do it, and it is fucking awesome. If you were to tell me before joining the site that I will prefer short videos over long ass scenes, honestly, I would have laughed at your face. However, Mr. Skin made me a believer and I am grateful for that.
Also, unlike the crappy 240p celeb porn videos that are floating around, Mr. Skin does a good job at collecting only the highest quality ones and you can look at the famous people tits or butt with the resolution of Full HD. This is the future and I am glad that celeb nudity sites have finally adapted to that too. Surprisingly, you can also find cock sucking and other hardcore scenes, which was eye opening.
Lastly, if you think that the whole site is non sense and you can find the content online or just by renting various movies, I would like to prove you wrong. For the majority of these, yes, you can spend next 20 years building your own list but even then, Mr. Skin includes some of the absolutely rare celeb nudity clips that I did not even know exist and from the movies that are long gone and forgotten. This was my favorite thing about the site. Exclusivity. I also love the fact that Mr. Skin does not just upload the videos but also takes time to produce the best celebrity asses, best tits and other videos.
Features and User Interface
The whole site is rather simple and easy to use, the only thing we did not like is their index (join page), which does one of the worst jobs at telling you what you will find inside. In fact, I was still left wondering and was considering whether to join or not, which I did.
What I like about Mr. Skin is the fact that they don't just randomly dump videos and screen caps and call it a day. There are playlists that focuses on nothing but the ass, tits or scissoring, the criteria variety is rather huge. You can also pick from the alphabetical order or look for the specific Hollywood star, which is always nice. I was expecting the site to be rather confusing considering the amount of content, but it is surprisingly well arranged and thought out. Props to them for that.
There are also user ratings, the whole movie and scene description which gives you an idea on where the nude scenes are coming from, ability to add to favorites, sort and view by trending, talk to people and just experience celebrity porn in its fullest. As already mentioned, they feature top 10 and other compilations too, which was one of my favorite features. Some of the actresses I was not even aware of and thanks to the narrator, some great pussies were discovered that day. Yes, it is not just tits.
Mr. Skin Network Statistics
Number of videos: 70,000+
HD (720p) and Full HD (1080p): Yes
4K Content: Planned
VR Content: No
Streaming: Yes
Downloading: Yes
Average length: 1 minute
Special MrSkin .com Offer
Having covered Mr. Skin, and learning to appreciate the variety, we have a special offer for you, which will not only give you a free access to Naked News for a month, but you can also get a membership for as low as $6 / month if going for a yearly subscription, instead of the usual $15.
That's not all though, if you are still not sure, a special trial option that is not usually available is there for you too for a price of $5.
Click here to redeem the offer.
MrSkin
Pros
Tens of thousands of nude celeb clips
Hundreds of thousands of clip caps
Top 10 and top 5 celeb nudity lists
The site is updated almost daily
Features exclusive, rare gems
Has high quality videos
No downloading limits
Cons
Needs more hardcore porn scenes
Clips are on a shorter side
Cross sale pre-checked