When it comes to life, you can pick two things. Either dedicate your time and energy to doing one job the best you can or try to cover all bases and please everyone. Appropriately, letting down everyone in the end. Now, regular search engines are fine for simple queries and maybe porn sites search, but this is your nonspecific query. Even with Google and Bing offering video searches, it does an awful job of finding quality porn.
Sure, it will display nudes if you add NSFW and give you some flavor of porn. However, it's not about finding information. The best porn search engines should rank it based on your interests, and none of the mainstream ones are doing that. But that's about to change.
Quick Review Access
Best Porn Search Engines
Adult Search Engine Reviews
I did not just rely on showing you a single and best porn search engine! Many porn aggregators could be a friendly alternative for porn searches, especially if you have no idea what to look for. Sometimes your mind goes blank. Porn aggregators are like a mix of manual and automated listings. Sure, it's either a hit or a miss, but at least you don't need to think of search queries.
Many of today's most brilliant men have already discovered the amazing capabilities of porn search engines, and since I somehow missed this wave of innovation, it is time to check it out now. Better late than never. The home page of NudeVista reminds me of the older Google design (minus the random porn content at the bottom for quick access). It's not, but the first impression could be much better.
It is a double-edged sword since search engines need to be lightweight, so cramming NudeVista with too many fancy bells and whistles might not work. However, NudeVista could have at least added ability to display more than x number of results per page without visiting preferences section.
Search Features & User Interface
With the initial bitter taste behind, it does get so much better. There is so much depth for a search engine that aggregates content. My favorite part is the model directory. If you haven't visited NudeVista before, be prepared to be surprised. I did expect to see a regular search box with a few extra fields for "must-have" keywords or tags. Instead, NudeVista greets you with one of the most comprehensive filters ever.
You can select the pornstar's weight, height, breast size, career start, and even hip size. Most search engines or list sites might allow you to filter by hair color and body type, but that's it. NudeVista goes beyond that and introduces a new way to discover pornstars. NudeVista also does a great job at porn search itself (for pictures or videos), supporting double quotes ("), word exclusion, etc.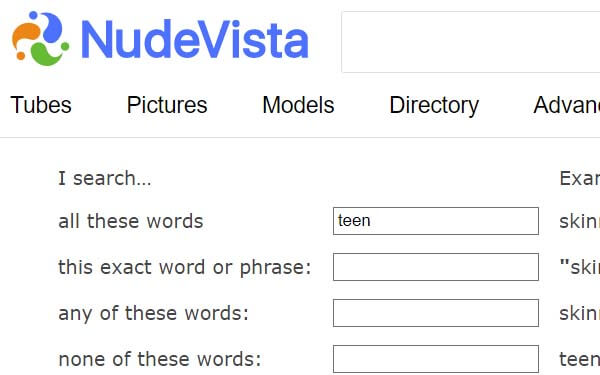 The job of a search engine is to provide people with an extensive indexing database, which NudeVista does with millions of results. Admittedly, I would prefer to see some porn sites removed from the default search (you can specify that in preferences). There are far too many crappy porn tubes with more ads than rocks in the mountains, which is unacceptable. However, for serious porn searches, that is a small sacrifice to pay as you can create the account and configure it accordingly.
Less-Known Features
After you receive the first search results, NudeVista does throw you one more bone to stay on-site: tags. Some of us have an allergic reaction when thinking about tags, mainly because they are associated with spam or messy implementations. NudeVista tags work more like the 00s web directory, all of which are grouped into categories and sub-categories. This is the best implementation of tags in a long time.
As for other interesting takes on porn discovery, Nude Vista is lacking in this department. However, you get random galleries (see the screenshot below) split into tags.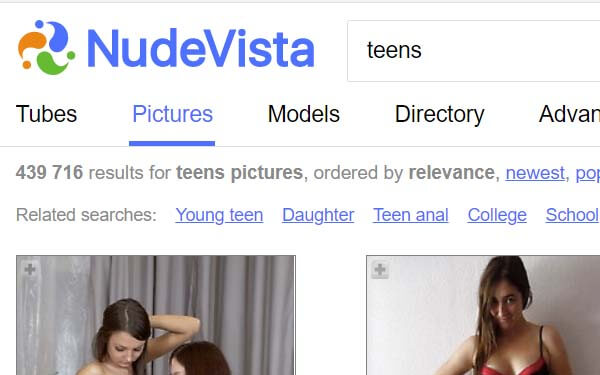 I suggest sorting by newest, which will show you exactly what is happening in the adult world. The frequency of updates is not terrific. For example, only three galleries were added in the last 24 hours, which is laughable. You should spend more time on this search engine and get to know it. Sure, one can use it as an alternative to Google, but what's the point?
Please familiarize yourself with their tags, algorithms, and categories. It's a simple search page unless you use other features. For example, why bother searching for "country" in the address bar when there is a whole directory for different ethnicities and nationalities? It's like a mix of human-curated and AI-generated content.
NudeVista does redeem itself with the feedback hub. Think of it as a subreddit or Digg but for ideas. Users can share their suggestions and see developers respond.
Conclusion
Having never tried porn search engines before, NudeVista left me highly impressed. It is truly incredible what some dudes in their basements can do when the topic revolves around porn. You can spend hours testing NudeVista's algorithms and, most importantly, a list of models, which was my key selling point. Oh, and it's all free. The only other competitor is PornMD, but it has fewer sites covered.
NudeVista Summary
Pros
We Like
Multiple search options and listings
Has great porn search capabilities
Advanced search is beyond great
Displays random porn content
Is not intrusive with ads
27 million videos
Cons
Downsides
User interface is not the greatest
Links to some ad nasty sites
Has broken sources
After warming up the idea of porn search engines and that some are useful, we are back with PornMD. Unlike with NudeVista, the design is to die for. You can tell it was not built by virgin neckbeards using a few strings and duct tape.
Search Features & User Interface
PornMD feels like a modern porn search engine, with simple yet new-age elements like a rounded search box or JavaScript effects. That brings me to the only and most annoying part of PornMD: the logo. If you mouse over on the PornMD picture, it will show you all the covered sites, but it is so badly implemented. It reminds me of those MySpace pages with raining dildos and other garbage. It also works as a quick way to filter or select a specific porn site from PornHub Network, so not completely useless.
Filtering & Discovering Porn
On the index page, you can filter through Straight, Gay, or Tranny porn and thank the porn gods for that. After you enter a search query, things do pick up for good. I was most impressed with the site's speed. It's lightning-fast. Also, since it relies on porn sites you will eventually visit, PornMD has zero ads. All the best settings can be quickly accessed on the left, including infinite scroll, sources, and length.
If you want to filter results even further, a specific VR-only porn option is also here. Regarding usability, PornMD is so far ahead of its game that you can't even compare it to other search engines. It has a very light and easy-on eyes design. Even though it's not dark, there is a light switch if you ever need one.
The picture search option could be much more distinctive as there is almost no indication that you can search through videos and photos (it's a small icon on the search box).
Less-Known Features
Many years ago, Google introduced the "I'm feeling lucky" option, and PornMD has that too, which they call "random search." Unlike regular search results where you want to find properly ranked sites, this option works on PornMD. Sometimes you have no idea what to masturbate to, so a random porn option is excellent.
As far as random porn goes, PornMD has also introduced another neat feature: live searches. It's as straightforward as it sounds. For example, users can filter queries by country or sexual orientation. It's a never-ending stream of porn ideas and insights. Yes, everything is anonymized, so you don't get to see the IP of a person searching for porn.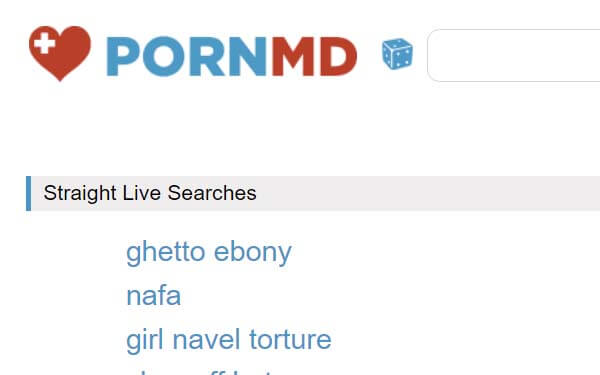 If you are a trend follower, there are trending searches in the top left corner! Also, this is where the hottest or most popular pornstars sit at.
Is there anything else worth mentioning? Of course! If you take your time to get to know PornMD truly, then porn search becomes secondary. Sometimes I don't even feel like watching adult movies anymore. Look at the following screenshot, which displays regional searches.
There is something Wiki-like on this site. It creates an impression that you don't just go there to release some steam. But, of course, now, you are a professional researcher because that's exactly how it feels!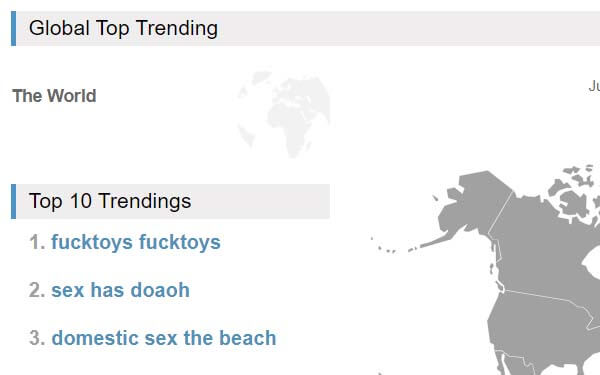 Lastly, I very much appreciate PornMD's admins for not forcing links in a new window. They get ten points for that alone. However, I want to end with the downside and its advanced search, there is none. If you call yourself a search engine, how in the world can you not implement search options less than basic?
Conclusion
PornMD works like a porn aggregator among the same network of porn sites. That might sound like a downside, but it is the largest porn network of them all, with PornHub, RedTube, and other names behind it. In 2019 alone, they introduced a handful of design tweaks and optimizations. The good run continues to this day, and in 2022 PornMD shall persist adding more stuff to their portfolio.
The design is lovely. It almost feels surreal, mainly because there are no other porn sites that do not try to stuff your PC with advertising.
PornMD Summary
Pros
We Like
Beautifully designed website
Eye-friendly search results
Impressive load times
I'm feeling lucky link
Not filled with ads
Cons
Downsides
Annoying mouse over effect on logo
One porn network exclusive
No advanced search
Why Use Porn Search Engines?
Okay, Bing was one of my favorite search engines for porn. If you visited any of reddit sites, pretty much everyone here occasionally throws a joke how Microsoft's search market share mostly consists of porn queries. However, Bing is certainly not at the top regarding quality. They might have data, AI, and other buzzwords, but it sucks.
Most of you (including me) rely on the worst search engine of them all. What is that? Search boxes on your favorite porn site. It might work on small porn tube sites with 2,000 videos, but not on massive sites. There is just too much content, and it's not aggregated or sorted in any way. Paid porn sites like Brazzers, Mofos or EvilAngel do better job with tag + category filtering. However, this is a luxury that not all of us want or can afford. Also, it's limited to that site or network.
How Can Search Improve Your Porn Experience?
This is where porn search engines come into the picture! I have never used them before, ever. It just did not seem necessary, and that's a lot of years of jerking-off sessions wasted. No, I am not trying to sell on the idea. Would you rather have a single smith machine in the gym that does everything, or would you rather have multiple dumbbells and bars designed for a few tasks only?
Diversification works in some instances, and porn search is one of them. You also must remember one thing: porn search engines are free. You don't have to spend a penny to try them. Don't just open the first listing, do a few queries, and close these tabs forever! Please browse through all our listings. The top position does not necessarily mean best.
Different people have tastes that some of us can't understand or relate to. I would love for you to share your thoughts, especially if you are new to the world of porn search. We can almost guarantee that this experience will work as a pleasant surprise. Once you learn the tricks of pornstar listings and categories and that there are tens of millions of porn videos you were unaware of, it will be like discovering porn all over again.