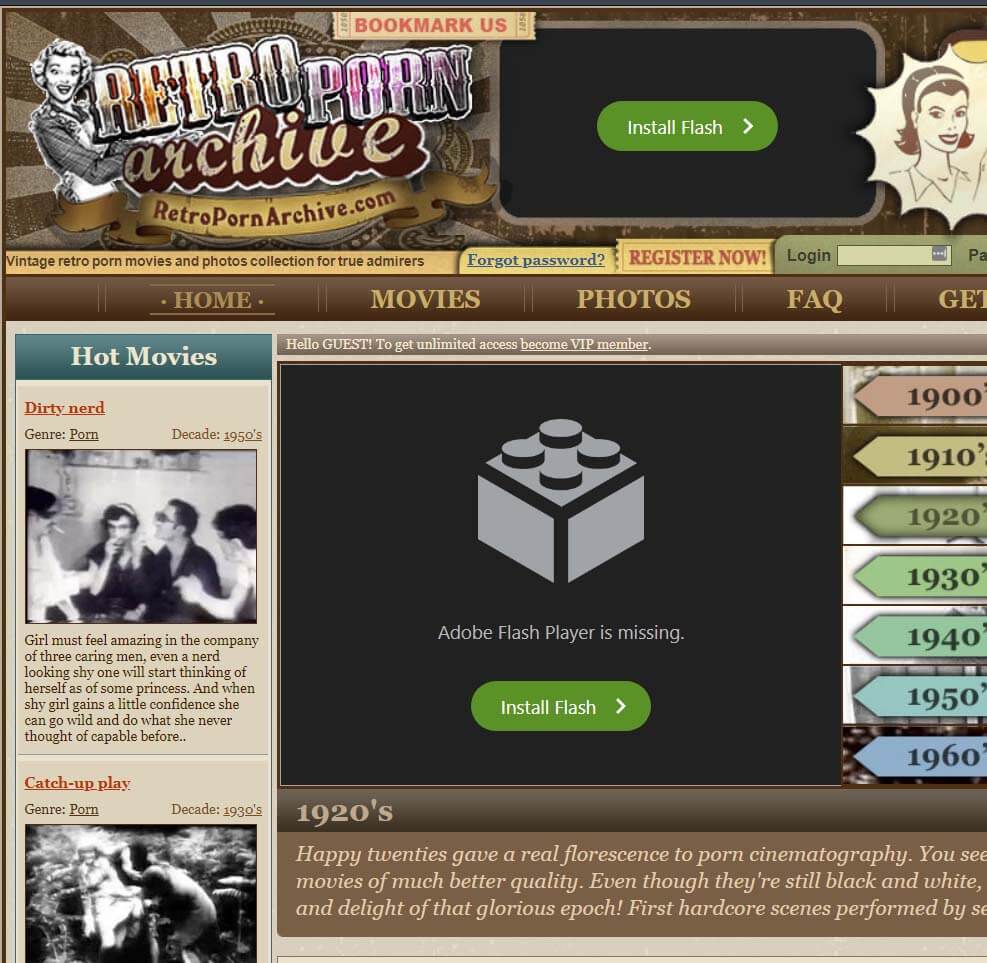 Introduction
The porn from the 1900s, retro videos (did you see the name of the site?) from 1910s and many more galleries from 1920s or later, RetroPornArchive is a place for all the vintage porn, and for a decent price.
About Retro Porn Archive
So, this site comes as a bonus one, or at least this is how I want you to consider that as there is actually a whole network of vintage porn with a single membership, and RPA is the one focusing on some of the oldest and best old-school adult movies ever made.
Adult Content
From what I can tell, the site had 426 adult movies for quite some time now and is no longer updating. However, that is not necessary is a bad thing. I mean, vintage porn is no longer produced and finding something new and fresh happens as often as solar eclipse. Even if someone finds their grandfathers movies that turn out to be porn of their own making, how many of those would share that with the internet? Let's also be honest about the quality as it is not Full HD or 4k. Should you worry about that? Well, if you are looking for vintage porn, this is exactly the type and quality of content that is everywhere and getting anything better is simply impossible. The files can be downloaded or streamed.
Of course, not everything is doom and gloom as watching beautiful (and not so) women from the ancient times is one of those "must do" things in life. You got porn from 1910s to 1980s, and sometimes instead of enjoying the movie, I begin comparing different decades and the evolution of adult industry. Seriously, vintage movies are so much fun. One cool thing about galleries is that they are unrelated in any way to videos. You know how many studios will just have same scene in video and picture format? Well, that is good and all that, but you basically get to see the same content twice. If you watched a movie then you have already seen the gallery. With Retro Porn Archive things are different. It is a single gallery (you can download it, of course) or over 12,000 different pictures. There you get to experience pretty much everything. From random nudity shots to hardcore fucking sessions and shyness in front of the camera. Boyfriends must have taken some of these pictures and it is kind of funny. We are men and we were doing same shit that we are doing now. Previously, it was a big-ass camera that would require for a girlfriend not to move for 30 seconds or so. Now, you can create fucking collages with some of the best girlfriend photo shots and if you are lucky, add some from her sister or mom too. If you disappear, your personal collection will get lost in time or locked vault, while previously it was the children and grandchildren that discovered these private photos. It's kind of magical, to be fair.
Heck, there are even erotica DVD videos from the 1930s and later. You got the classical music going while some whore sucks a dick or two. I do wonder who the producer of these movies was. Sex is still the same, but also different. It's hard to explain. However, RPA does allow you to view multiple free videos on their home page, so you do get to see the ancient history for free. I wonder of these later grandmothers would brag to their grand-kids on how they were first women to do porn or would bring these dark secrets to their graves. In either case, my dick was hard and my curiosity is at all-time high. There are some funny (and creepy) guys and girls too. Sometimes it is a comedy, sometimes it is porn.
If you are not even into vintage porn, just browse their page and see some of these videos. I highly recommend Retro Porn Archive to anyone, free or paid members. This is a part of history that only few percent of people will ever get to see (thanks to the Internet) and that alone makes it worth the price or your time.
Features and User Interface
The user interface could not get any simpler or easier. You pick the top-rated content or mostly viewed. You can also (thank god) rank them by decades, which does help a lot. My previously reviewed site that I did not even include because it was so fucking terrible, just dropped all their videos randomly and were like: that will do.
You select category, decade, decide if you want porn or erotica, and hit that magical photos or videos button. I wish the videos would not required Adobe Flash, but with Google Chrome I did not have to install any additional plug-ins. Still, they could spend some resources and reconvert everything to MP4 or a format that is future friendly. While the videos are vintage, the technology should be from the 21st century.
I don't have any other good or bad things to say about the site. Everything is intuitive and well laid out. Maye the thumbnails could be 2x larger, which would bring it closer to today's porn site standards, but hey, you can just get all galleries and watch on your PC, with thumbnails of any size, shape or form. A solid site with solid user interface.
Retro Porn Archive Network Statistics
Number of videos: 400+
Number of galleries: 12,000+
HD (720p) and Full HD (1080p): No
4K Content: No
VR Content: No
Streaming: Yes
Downloading: Yes
Average length: 10 minutes
Special RetroPornArchive .com Offer
With our link, a special offer will be unlocked for you, which will give membership to 4 sites for the price of one. One is a gay vintage porn site and other three features DVDs, videos and thousands of photos from hottest babes.
Click here to redeem this offer.