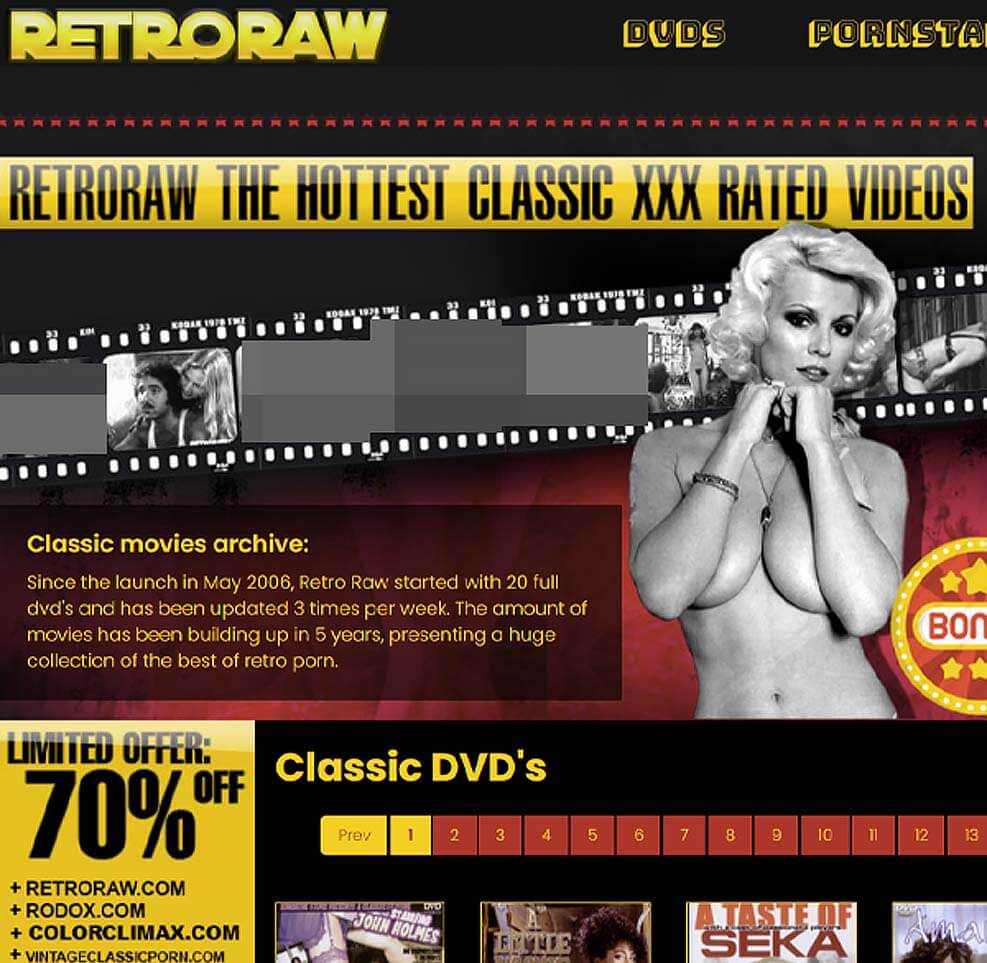 Introduction
There are many sub-niches of vintage porn and while some sites focus primarily on the early 20th century, Retro Raw is all about the classic adult movies from 70s and 80s.
About RetroRaw
This is one of the retro sites that has been around for as long as I can remember and features the very known pornstars from the respected decades. Its strongest point is the DVD collection that is in the hundreds.
Adult Content
Not everyone enjoys black on white porn or movies that have no background audio. To be fair, I am not sure if some people watch it because they are turned on, or it is simply the curiosity and humor thing. Some of the scenes produced in the early 20th are just too funny to be jerking off to. You got classical jazz music playing while dudes try to fuck some random hooker in what appears to be like 18 fps but in fast motion if that makes sense. The movement is just weird. RetroRaw on the other hand goes the other way and picks only the best porn scenes from what we can actually call porn. While other retro archives are full of actresses that are all dead, I am sure that most of the women or men that are featured in the DVDs are still doing well today, maybe even fucking of these things still work.
You want numbers? Retro Raw has 206 of DRM free DVD movies that can be downloaded or streamed online. It might not sound that impressive, but it should be noted that these are fully featured porn films with the average watch time of 70 minutes. This is over 14,000 hours of vintage porn content or if you want me to make it even more user friendly: close to 2 years of non-stop jerking off. That is a fucking lot.
While ancient pornstars don't really have any names, the classic pornstars is what the porn industry the way it is these days and surely, all of them can be found on Retro Raw. We have Ron Jeremy who has earned its name, Shauna Grant (the Minnesota pornstar that was born in the 1963) and Desiree Couseau, who is probably my favorite one with the largest or at least the most pleasant looking tits. This is just a fraction of all models. Lisa De Leeuw born in 1958 is also here and is considered to be the hottest redhead of the 70s. Hot brunette born in 60s, Kandi Barbour that has sadly passed away cause she became homeless, Peter North and many other popular whores / studs of the 70s and 80s. I am sure that at least some of these names should be known to you, unless you were born in the 2000s or something. Nina Hartley appears to be still active, and while I don't have my facts with me, she might be one if not the longest running pornstar of all time. That bitch could be your grandmother but still fucks and educates people of multiple generations.
The movies are as expected, with what was considered to be the best quality at the time, and now of "retro" quality. There are no sound distortions or anything like that. These are the movies that you watched yourself or found hidden in your parent's basement. The different mixtures of content are also nice, as you have younger sluts, threesomes, gangbangs, and just a blend of different niches and porn flavors.
Features and User Interface
Each DVD listing has multiple thumbnails and a description, even a cover if you like those. My favorite parts are the text ones for some reason, as reading the "sales pitch" that was written 20 or 30 years ago is just awesome. The mentioned pictures from the scenes are also not completely random and shows multiple girls, some fucking angles, close up pussy shots, etc. They were creative in these days too as you have scenes in front of a "sexy sports car", names like China Doll or King Cock.
The pornstar index with a lot of biography was a very welcome addition. You don't get to see just a sentence or two about models. Instead, these are full biographies with pictures, life after porn, their favorite sex positions or experiences. You do get to know these people much better than today's pornstars that could theoretically share the very same shit, but they don't. This should be the complete opposite, but you got this.
Layout and navigation is respectable. Nothing too fancy where you get blown away, but no annoying things either. There are two main sections: DVDs and pornstars, the later I already covered above. For adult videos, you got nice paging navigation that enables you to open even 20 pages at once and just grab all these videos without much effort. This is such a refreshing and welcome "change". To be fair, pages used to be like this till they brought JavaScript navigation and other non-sense. Covers are of a decent size but maybe I would prefer something in lines of Netflix or other movie streaming services that feature big-ass covers. This is especially relevant for porn as you need to see the actresses and outtakes from the scenes before committing to the click.
Solid site, great DVD collection and nice navigation for what it is. I can't find any major bad things about the site, really.
Retro Raw Network Statistics
Number of videos: 200+
HD (720p) and Full HD (1080p): No
4K Content: No
VR Content: No
Streaming: Yes
Downloading: Yes
Average length: 70 minutes
Special RetroRaw .com Offer
I don't think that there is a better site for vintage porn in DVDs of 80s and 90, and with our offer there is a very nice discount of ~50% when you will buy membership longer than 30 days.
Click here to redeem this offer.