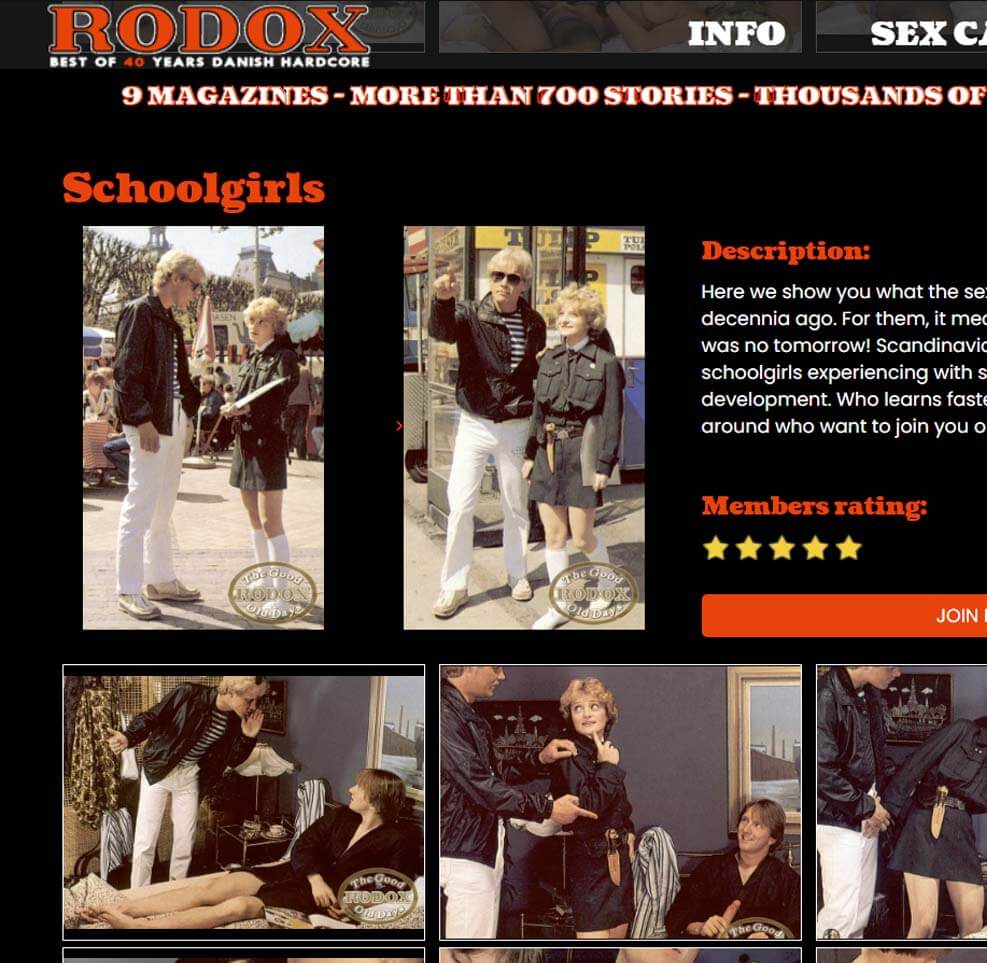 Introduction
Turns out, there is need for Danish hardcore porn and Rodox is one of the magazines to provide you with that kind of content. Blurry pictures with a yellow tint and vintage access to some of the best porn out there.
About Rodox
It's hard to tell what the name Rodox actually means, but it is one of the vintage gallery sites that has been running for many years. Yes, it has no videos and runs with stories, photos instead. If pictures are not your kink, then this site is not your thing.
Adult Content
I am not even sure how to begins this review, especially after spending much time on the site. The first thing that instantly grabs your attention is their site design, which I wanted to address first. It's funny how having such awful design would be considered a suicide if you were launch site these days. However, it does work for Rodox as the whole theme of their porn is vintage. Guess starting with web design was a good idea, and a selling point too. Thankfully, they did not go the extra mile and actually include pictures and other data that was rare in the early days of the web.
As already mentioned, it is all about photos and retro stories. You can find over 1,400 galleries with 20 shots per one. I was expecting to see some rather bland pictures of just erotica, or people fucking but add me to the surprised people list. The range these guys cover is one of the most impressive I have seen. Yes, there are your hardcore porn sections of anal photos, and chicks riding dicks but then if you were to dig deeper, things do go bizarre. I did find golden showers (pissing porn), gangbangs of the 1940s, etc. Not all the girls are hairy, and I am not even sure if some of the content there is from the actual ancient times or just a result of Photoshop. The weirdest thing I have found with Rodox is that they do not allow you to download galleries in .ZIP files. Seriously, what the fuck is that? That's the worst business decision I have seen, bar none.
I never enjoyed galleries and prefer a more visually stimulating material like videos. If you agree with me, check our other vintage porn sites that we have reviewed as there are few more to chose from. There are few bonus sites included with the membership and these do include moving pictures, so I guess it is a matter of value and your idea of perfect vintage porn. The earliest vintage stuff of course was never in videos as it took people some time to figure out the magic behind movies and how to actually do that.
Features and User Interface
I am not a fan of old and ancient user interfaces and despite Rodox being a vintage site, I would say this is one of the worst out there. It is outdated and makes me pull some hairs out of my nose. You got tiny ass thumbnails that are hard to tell apart, then browsing tools that look like something from the 70s and just everything reeks of old, shitty websites. I don't know if webmasters behind the site consider that a plus, but let me tell you, it's ugly. You won't find any advanced search or most of the options, just thumbnails and that's it. The layout is also bad as it looks like everything is just included in a single and rather narrow table. That might be okay for mobile users, but for someone with ultra-wide screens, it's just ridiculous.
There is at least one decent thing. On the index page they do let you know about the next gallery update and magazine update. At least there are categories that you can browse, anal sex, lesbian love, golden old, color climax, bizarre sex and blue climax. Some of these urls link to the bonus sites.
Rodos Network Statistics
Number of videos: None
Number of galleries: 1,400+
Downloading: Yes
Special Rodox .com Offer
There is a special deal going where access to Rodox and its bonus sites can be grabbed for under $10 / month if paying annually. Please hit the link below and enjoy the discount.
Click here to redeem this offer.