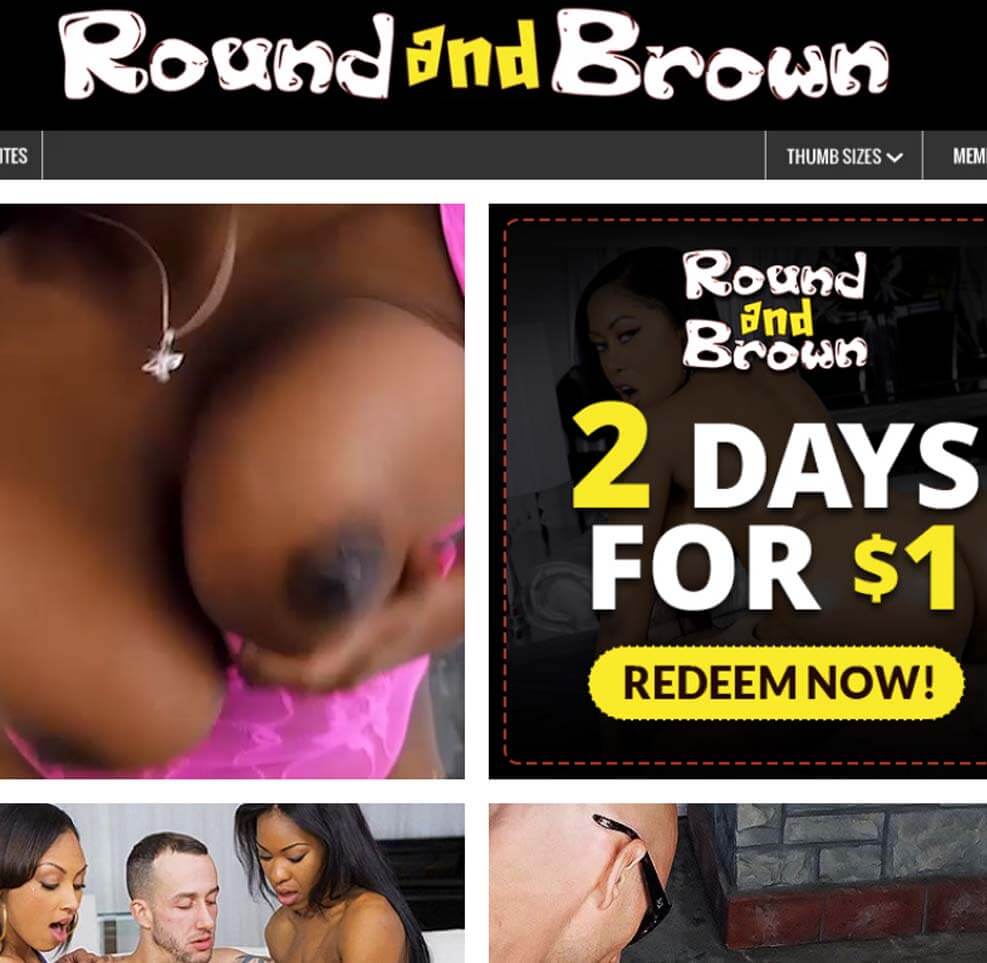 RoundAndBrown Introduction
Round and Brown is one of the most famous and well-known black plus ebony porn sites on the market. With the quality that is miles ahead of the competitors, sexy brown asses, friendly user interface and various, community drive features. Don't get fooled though, becoming popular does not just randomly happen by accident and there is actually a good reason for that. Why? This is one of the bonus sites of Reality Kings, the porn gods themselves.
About Round and Brown
As we have learned from the paragraph above, Round and Brown is one of the sister sites that is included as a bonus, and if you read our Reality Kings review, you will know that we were left quite impressed with the whole porn network. They have been around for ages and the site Round & Brown is truly one of our favorite black porn places as of today.
RoundAndBrown Adult Content
Finding high quality, and well produced black / interracial porn is really not an easy task. If you want high production values and African American girls that don't look like trash, you can either waste hundreds of bucks on various memberships only to be left disappointed or let us do that and include only the best black porn sites, which is what we are doing.
So, going back to the beginning, Round and Brown has been producing interracial and ebony porn for as long as I can remember, which can only mean one thing: their porn library has grown a lot and now has over 700 black porn videos in the obvious, Full HD resolution as well as galleries. The good thing about galleries is that the resolution is way above industry average and personally, we are getting sick of the sites that provide "galleries" that are basically screen caps of the video. Fuck these sites. Round and Brown however is not one of them. It features over 700 sets with as many as 700 photos per gallery at a resolution of 2240×1680, so if you were to do the match, the total number of ebony, black, interracial or any kind of black to white and vice versa porn picture count is close to 500,000. That is just fucking crazy. All it takes is one click, and you get to download the zip file features that scene images. As good as it gets.
Thankfully, the site still receives weekly updates and is not abandoned as many other bonus places in the porn industry. In addition to that, the quality (and I am not talking about the video quality) is amazing. The amount of chocolate asses that got my dick hard is in the high digits and all of the pornstars are truly gorgeous. I love black booty and anal scenes, black chicks and white dicks or just two African American performers fucking like the nature intended. Also, while some sites do ten to fifteen-minute porn scenes, Round and Brown has the average movie length of 30 minutes. That is a huge plus, which feels like directors actually are doing something of value and you do get to see the fruits of labor. The only downside that I did not enjoy was downloading limits, so if you love collecting porn and just stacking up everything onto your computer, prepare to be slightly disappointed, there is a daily download limit of 10 Gigabytes. That is not as bad as some other sites, but I would prefer no limits.
Features and User Interface
Being a part of Reality Kings family certainly has many benefits with one of them being great user interface that is not only easy to use but also supports multiple devices and is intuitive. One of my favorite features that I have found some other ebony and black porn sites are lacking is ability to leave comments and interact with the community. This is such a great thing and you truly get to experience premium porn in its fullest. The best part? Since these are the paying members, don't expect to find sixteen-year-old comments about random games or just text full of spam. You can also upvote and downvote everything, which basically feels like you are controlling some of these pornstars destinies.
In addition to that, you can pretty much sort your porn in as many was as you would like, be it by alphabetical, most popular scenes, latest ones, community favorites and all that jazz. One thing I did not like was the pagination, which goes like this: 1 to 5 and then Last page. When you have hundreds of videos, I would prefer more options. Yes, there is search and tags but come one, just give us more fucking pages.
Speaking of other features, there are trailers for every porn scene, which was awesome since you truly get to see most of the content without actually skipping and rewinding everything, and after you have found the one that peaks your interest (since I love black asses, it felt like me during early days of Internet when everything made my dick hard), it is business time. All in all, the navigation is great, the features are plentiful, and the quality is top notch. This is what I would expect from the brands as known as Reality Kings.
Round and Brown Network Statistics
Number of videos: 700+
HD (720p) and Full HD (1080p): Yes
4K Content: Planned
VR Content: No
Streaming: Yes
Downloading: Yes
Average length: 30 minutes
Special RoundAndBrown .com Offer
When it comes to discounts and special offers, you can count on us. So, here is a thing, instead of paying the usual $29.99 / month to access this as well as many other sites, there are multiple deals for your to choose from:
$1 – two-day trial membership
$7 – seven-day streaming access
Or if you decide to go with the yearly plan, the savings are as massive as 83%, making the membership cost only as little as $9.9 / month without any trial limits or streaming only restrictions. Does that sound like an offer that is hard to pass by? If so…
Click here to redeem the offer.
RoundAndBrown
Pros
Has some of the most beautiful black and ebony pornstars
Exclusive black porn content not found anywhere
Allows to leave comments and interact
Great navigation and user interface
Updated multiple times per week
Really high production values
Thousands of pictures
Hundreds of videos
Cons
The trial option is bit limited
There are downloading limits