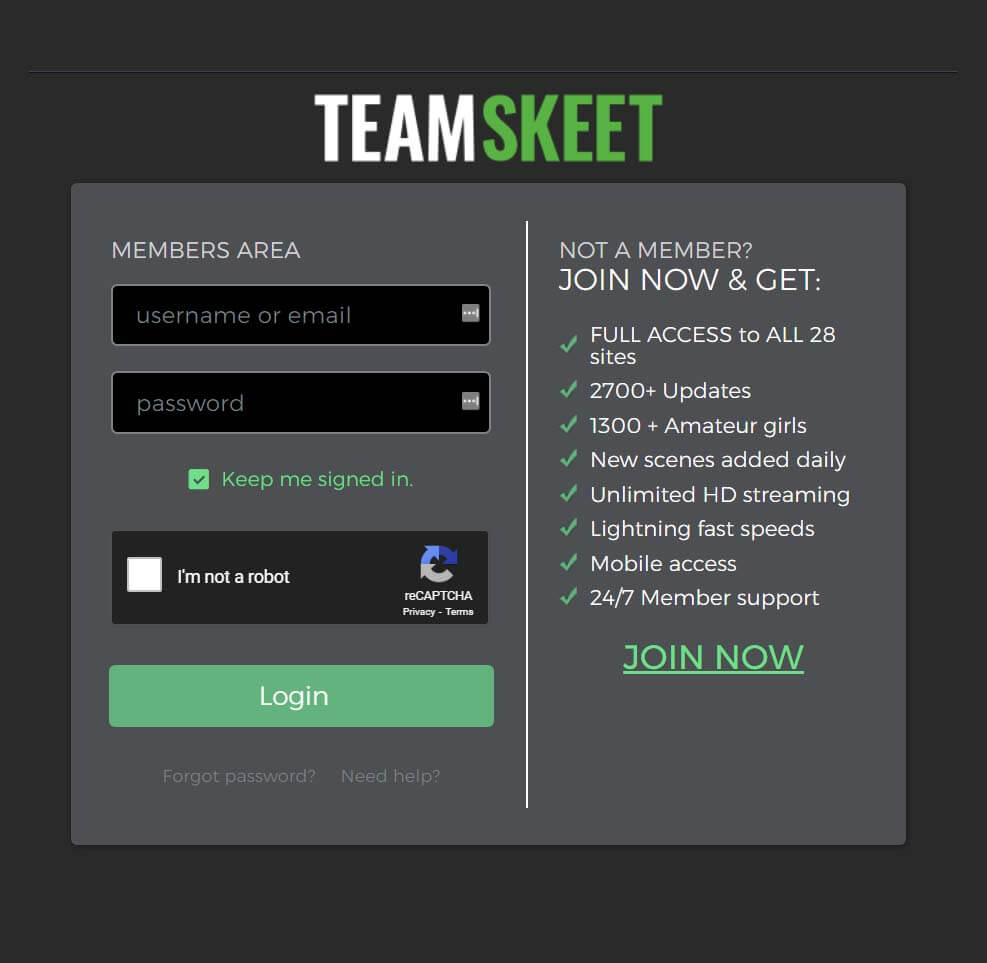 TeamSkeet Introduction
Team Skeet is a mega porn network that focuses on the 18-year old's and covers pretty much all porn niches involving amateurs and actual teens. Mostly white but there are some exceptions. While you won't find there many high calibre porn stars, that is the whole point of the site, it is for discovering new and rising talent, and in this regard, Team Skeet is above and beyond pretty much any other site we have reviewed.
About Team Skeet
Last year, Team Skeet crossed the 10-year old mark and as with every porn site, the longer they stay afloat, the more content you can find. To be honest, TS has been a part of my daily porn fix for quite some time, ever since I have discovered them back in 2011. For this thing alone, they deserve some sort of recognition, I believe.
TeamSkeet Adult Content
If you are into fresh new talent, or just teens in general then this might be your goldmine. I know it is mine. You use, unlike the majority of mega porn sites, where pretty content is focused on the famous porn stars or just sluts who have been fucking this industry for quite some time, Team Skeet goes the other way, and this is why it is so great. Here's a thing: when I join or am asked to join a site, I do it for one or two of my favorite porn stars, well, maybe a niche or too but you get my idea, it is all about whores that love to fuck.
Team Skeet is different in this regard, it is extremely rare to find a triple A level pornstar there, instead, it is nothing but the unknown or carrier starting whores. And I am not talking about some disgusting pigs with acne and fucked up faces, no, these are high quality, beautiful 18 year old teens. Here's a thing: if you are into first timers or amaterus, then by the time your membership expires, your dick will be so numb that you might need to take a break, seriously.
Mostly white but gems like these are there too.
The amateur "pornstars" there don't even have a last name most of the time, it's just: Christy gets fucked. That's it. It is as raw as it can get, and this is the site's biggest strength and its weakness. Some of these girls are fucking lit, but they never come back for more and you can never find them ever again. Try searching for a whore using first name only or just initials, yeah, good luck with that. But I guess it just shows that TeamSkeet is all about the amateurs and just first timers?
As far as the porn content goes, there are currently over 3,000 videos, which by today's standards is not that much, but keep in mind that these are mostly unique, one-time girls, so it is like a fresh pussy heaven. For galleries, the amount is about to hit the 3,000 mark, and with 500 pictures per set, you are talking 1,500,000 million photos. If for some weird reason you would jerk off using one picture only, these would last you and your grandchildren a lifetime. Most of the content is in Full HD although for the site that is over 10 years old, you can find some 720p content too, which is not the best thing in the world but that is the sacrifice a man must make sometimes.
When it comes to Team Skeet updates, it is one of the kind, with daily and moist of the time multiple updates every single day. So not only do you have thousands of videos, but the site just keeps on giving with fresher and fresher pusses added to the index.
The content is 100% exclusive and comes in different shapes from sites like Innocent High, Exxxtrasmall, InnocentHigh, TeenCurves, TeensLoveAnal, PVLIfe, TittyAttack, TeensLoveMoney, SelfDesire, BadMilfs (probably the only site around non-teen sluts) and many more.
Features and User Interface
Speaking of various features, you can filter or look for new scenes using the good old tags, physical traits, sex positions and all that stuff (anal, oral, you know it), as well as something bit "weirder": outfits. So, if you are into 18-year-old teen whores that wear pink panties and red skirt… Yeah, this is the site to filter the shit out of your search and get the content you need.
These if you could call "pornstars" have their own unique page, with descriptions, latest scenes, pictures and other jazz. You can sort the videos by latest, top rated as well as girls that have been community favorites. Another neat thing that is not a big deal but is a rarity is pagination. Unlike other big sites where you can go to pages 1-3 (in better cases 1-5), Team Skeet offers 1-10 + last two, so it is a much friendlier place if you like opening multiple scenes or pages at one, I do.
Juicy asses and pretty faces.
Now the one thing that I don't like about their policy is the fact that after around 50 downloads or so, the speeds will be limited for the next few hours or so, which is not cool. Either limit a number of downloads per day or just cut that off. I understand that the value of these videos is rather big, since there are a lot of stupid people who want to spread it all over the Internet and do that by using a one-dollar worth of trial method, and it is a business, but I think download limits would be a better thing, at least that way you are not left frustrated.
All in all, it is one of the better if not the best sites for amateur and just unknown pornstars. The video quality is great, the download options are there, filtering is tight and the variety is great. What else do you need?
Team Skeet Network Statistics
Number of videos: 3,000+
HD (720p) and Full HD (1080p): Yes
4K Content: Unknown
VR Content: No
Streaming: Yes
Downloading: Yes
Average length: 30 minutes
Special TeamSkeet .com Offer
Instead of paying the usual $28.97 / month as the regular mortal, we are going to make you the offer that is exclusive to the RedBled members, and it is a massive one.
So, here's a deal: $17.87 / month (full sites access) or just $7.98 / month when paying for a full year, unlimited pass. That's close to 50% of savings, all on us. You're welcome.
Ready? Click here to redeem the offer.