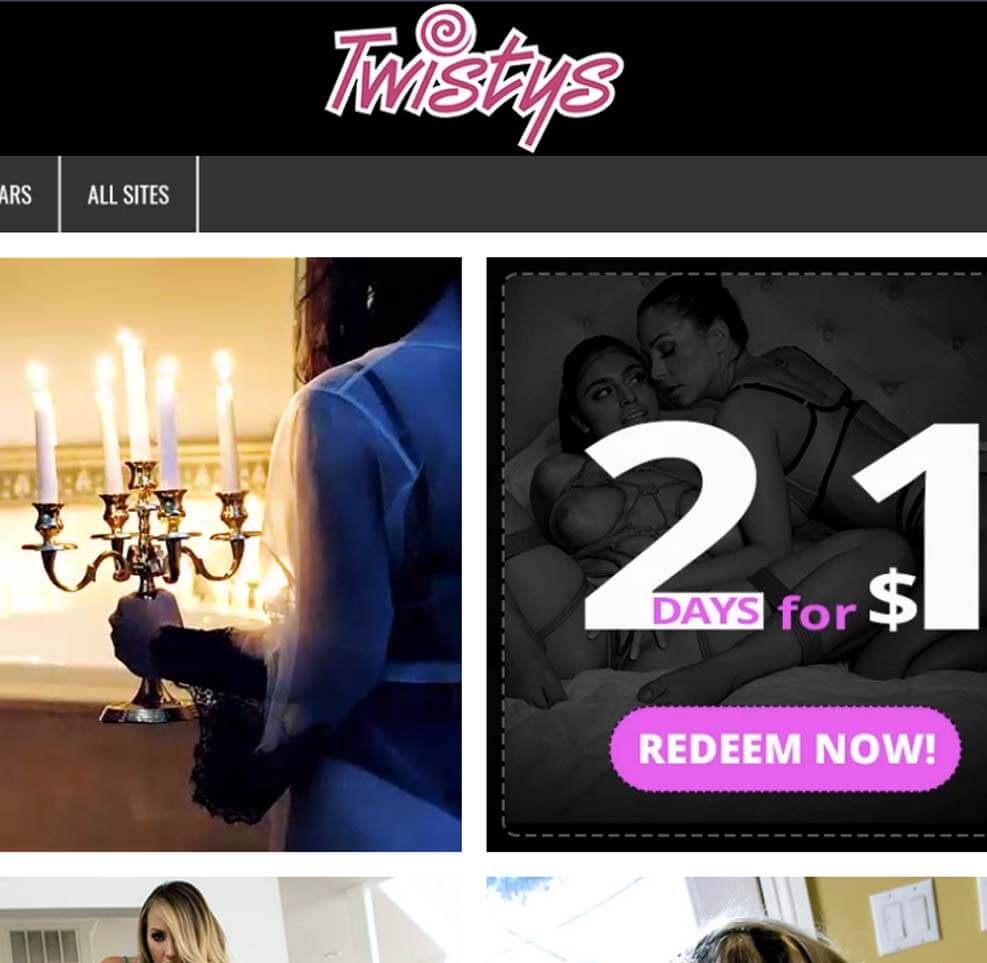 Introduction
Everybody that has been on the Internet for a decade or two, has already heard of Twistys, which is one of the best go-to places for lesbian or solo porn (and occasional guy on girl video). There are too many videos to ever be consumed by a single person, and that is value.
About Twistys
In three years, Twistys will be 20-years old. That is a spectacular feat and achievement. Only very few of the best porn sites have managed to stay afloat and be relevant for so many years. In fact, I could name you all of them on a single hand. Why is Twistys so popular and what keeps it running? Let's proceed with our review.
Adult Content
I used to jerk off to Twistys content pretty much exclusively, as lesbian porn was by biggest thing, ever. It did not matter what type of video it was. One day I would go back from school and just look for girls kissing, other times it was all about girls masturbating. My young mind really wanted to see what a female orgasm looks like. Funny thing to say these days but I also despised videos that would feature a male and female pornstars fucking in which the girl would not experience the orgasm. It just did not work for me. The biggest turn on appeared when I have discovered what I called butterfly porn. It is just two women grinding one another's pussies, nowadays called scissoring. These scenes to this day make me horny and hard as titanium. I was so frustrated because not knowing what that thing is called, I would just type all kinds of random words in search engines, hoping for the best. It was much harder back then to find quality lesbian porn, so be thankful for what you have these days.
I can confidently say that Twistys still produces amazing lesbian videos. You got your hardcore lesbian porn with the well-known lesbian pornstars and just beautiful girls that agreed to taste some pussies for a one-time salary. You will not find here the ugly, almost bald girls that are bigger that some of the professional body-builders. What I am trying to say is that there are no nasty women. I find it interesting how in your typica porn, the lesbian women are all beautiful, feminine and sexy while in real life, one will always look like dude. These are the dynamics of lesbian relationships and thankfully, we don't have to see any of that.
There are so many videos that it does get ridiculous. As of now, there are well over 8,000 lesbian porn scenes out there and close to 20,000 photo galleries. How neat is that? What kind of porn does Twistys produce? It's an interesting sorry. It was all about vanilla lesbian porn in early days and then transitioned to regular lesbians fucking. You know, the regular hot stuff with the good amount of kissing, etc. but nothing where you get slow music going and two women complimenting one another for hours in the moonlight. Now, you still get most lesbian porn but occasionally there is a nice treat waiting: regular fucking videos. I know that that might not sound exciting, but if you are paying for a single site membership, these goodies add some variety and just keep things interesting. Having already spent last 3 paragraphs talking on how hot Twistys porn was and still is, let us transition to the next aspect of any good porn site, and that would be usability and all that.
Okay, one last thing: there are 4 bonus sites too. You get access not only the young women but also lesbian milf porn, threesomes, regular fucking videos and hardcore porn section. This also covers masturbation and solo videos too, by the way. The combined content gives you access to over 14,000 videos total.
Features and User Interface
The design and your overall layout were always one of the strongest Twistys sides. Not only does it feature most if not all porn site feature, but also some of the more interesting ones. For example: there are the top models section on the sidebar, so you don't even have to visit a separate page. Not only do you get to see their ratings but also ratings. Also, for anyone who has not tried Twistys already, there is thing called Twistys Treats, which is basically the girl of the month thing. It truly gives you tons of tools for porn discovery. Some porn networks would just include tags, basic search and all that but these guys are not one of such sites. That is a very good thing since porn discoverability is hard on any good porn network with over few grand videos.
It also includes my most praised feature of any porn network: communities. Yes, you can leave comments after every video, chat with other paying members and just laugh at some of the most creative messages. Having recently reviewed few other lesbian porn sites, I did find them weak on another thing: thumbnails selection. They would be monotonic with same ass or tit shots, dicks in the pussy, etc. There are plenty of different thumbs with Twistys, some girls are with lingerie, some naked and some grinding one another. Just a good balance, which does not make it look like some sort of bot cut and prepared the photos.
It might be nostalgia speaking but I can't get over how great their content is. However, judging by thousands of other members on site, it must be true. Recommended.
Twistys Network Statistics
Number of videos: 8,000+
HD (720p) and Full HD (1080p): Yes
4K Content: Planned
VR Content: No
Streaming: Yes
Downloading: Yes
Average length: 10 minutes
Special Twistys .com Offer
We love lesbian porn and here is something that should prove to be of value to you. We are giving away memberships that usually cost $24.95 / month for only $4.99 when going for the 18-month access. That should be enough to watch a shit loads of lesbian, solo and hardcode videos. There is always a trial too.
Click here to redeem this offer.