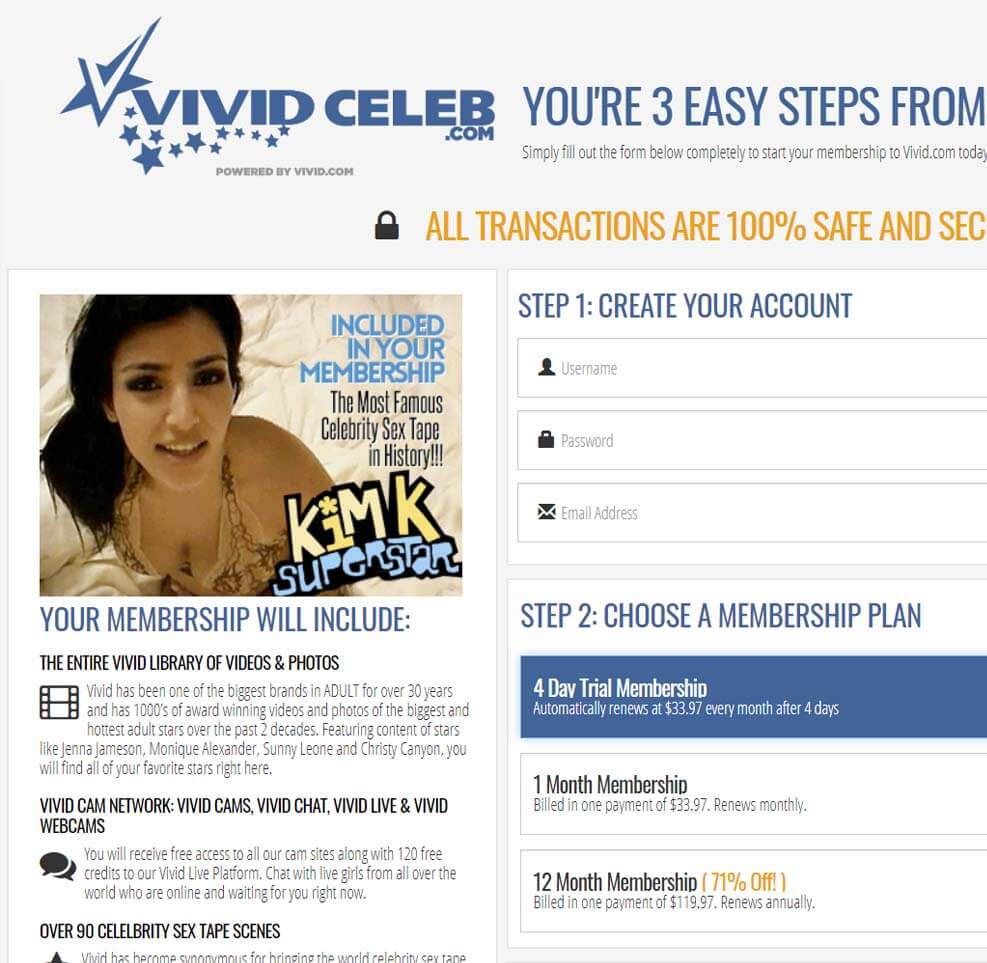 VividCeleb Introduction
Vivid Celeb as well as Vivid Entertainment are the top names in the porn industry that offer nothing but the high quality, leaked adult sex tapes from the famous Hollywood celebrities, rising popstars and just famous people daughters and sons. In addition to that, the network is known for its crazy offers (such as $5,000,000 (£3,000,000) to Catherine, Duchess of Cambridge's sister, Pippa Middleton for a part in an adult movie. etc
About Vivid Celeb
Believe it or not but Vivid Entertainment, which controls Vivid Celeb, has been found over 30 years ago (in 1984) by two dudes David James and Steven Hirsch; and has been producing and dominating the porn industry ever since. With multiple awards and experience that is hard to march, Vivid Celeb is a go to site for celebrity porn,
VividCeleb Adult Content
When it comes to high quality celebrity porn, you can't just take a site and say that it has 50,000 high quality porn videos in HD and a billion high resolution galleries. I mean, in a sense a pornstar is a celebrity too since we know them, but Vivid Celeb is all about the high profiles from Hollywood, be it movie actresses, pop singers, TV hosts or whatever.
Okay, so what does Vivid Celeb has in its store?
– Kim Kardashian's leaked sex tape
– Farrah Abraham Superstar from having real life sex
– Tila Tequila lesbian, squirting, threesome, anal and a cock sucking video
– Montana's Fishburne sex tape where she rides the cock
– The famous Mimi Faust and Nikko porn video
– Courtney Stodden leaked sex tape
– Karissa Shannon getting pounded doggystyle
– Tammy Lynn Sytch getting fucked hard
– Brittney Jones confidential hot scene
– Chyna sucking two dicks at the same time
– Myla Sinanaj and her sex tape
– Erica Lynne fucked hard, with champagne and more
– Weiner gets her pussy licked
– Sauna Sand exposed in the leaked sex tape
– Taylor Lianne Chandler enjoy the sex
– Jessica Siera showing her pussy in bathtub
– Toastee exposed and masturbating
– The Jimi Hendrix sex tape
– Pamela Anderson and Tommy Lee sex tape
– Karrine Steffan's Superhead
– Faithless getting fucked hard
– The Tom Sizemore Sex scandal
These are the videos that Vivid Celeb currently features and as you might have guessed, it is a pretty staggering list. And I am only talking about the ones that you can talk about, there are also Montana Fishburn, Motley Crue, etc. A total number of celebrity porn videos is over 25.
I am not sure whether these celebrities are getting paid (probably) but at least you get to see the leaked sex tapes and just hardcore porn scenes in the highest quality that was recorded. None of that shit streaming, ads, blurry faces or whatever. Just as the god intended.
The most interesting thing is that you don't get to see 25 or so sex tapes that are 5 minutes each. No, it is a real deal, with the average length being at 60 minutes, you are guaranteed to have a good time. It is like watching a movie at this point, just with more sex and less bullshit. Also, the joy of seeing your favorite celeb getting fucked in the nastiest ways possible and then watching their movies, listening to songs or appearing on red carpet, makes the whole experience a joy. Seriously.
In addition to joining Vivid Celeb, you also get to experience the whole Vivid network, that has thousands of videos (4,500+), galleries, full on movies without DRM or other crap, real, crispy quality Full HD porn that covers pretty much every niche, and all in all, just have a good time.
Features and User Interface
The user interface of Vivid Celeb is pretty straightforward and since there are a limited number of videos, it does not really matter that much, as long as it is modern. You can pick from your favorite celebrities, and just go directly to the scenes. I mean, at this point you are not looking for a scene that features Kim Kardashian, anal, red dress and a threesome. It is just her. So even if you were to have crazy filters and advanced search like that, it is pretty useless, agree?
As far as the whole site goes, it is a nice one, I mean, these guys have 30 years plus of experience so no rookie mistakes of serving non-mobile site to your tablet or a phone, etc. Previously, they used to limit downloads but thankfully, the situation has changed and that is for a better.
The rest of Vivid Network is great too and features multiple ways to filter the content, go to specific scene, sort by pornstar, kink, length, and every other variety. You can also rate and sort by rating too, which helps if you are only looking for the community favorites. So, to sum it all up: it is a modern web site for the modern people with no bullshit and lots of porn. That's as good as it gets.
Vivid Celeb and Vivid Network Statistics
Number of celebrity videos: 25+
Number of videos: 4,500+
HD (720p) and Full HD (1080p): Yes
4K Content: Planned
VR Content: No
Streaming: Yes
Downloading: Yes
Average length: 60 minutes
Non-celeb: 25 minutes
Special VividCeleb .com Offer
A man has to be rewarded for reading, right?
Now, here is a thing. Usually, the membership for 30 days of full access is 34.95 USD, which is a lot of money. However, if you were to use our offer below, which is applied automatically, you get to download all celebrity porn for as low as 9.95 USD, which is fucking crazy, that is pretty much 70% to 80% off, and for a yearly membership it is even less. Also, if you are interested, there is a $4.95 trial option too, so whatever floats your boat.
Ready? Click here to redeem the offer.
VividCeleb
Pros
Features one of the largest amount of celebrity sex tapes
Allows you to stream or download videos
Features thousands of porn videos
The content is updated almost daily
Friendly and easy to user interface
Great download speeds
Cons
Celebrity porn update schedule is uncertain
Bit on expensive side (without offer)